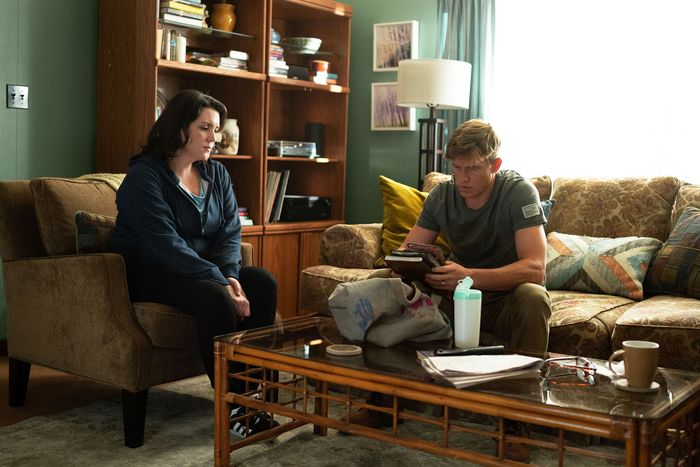 Photo: Kailey Schwerman/Kailey Schwerman/SHOWTIME
Warning: Spoilers for Yellowjackets season two lie ahead.
With a harrowing cabin-in-the woods pregnancy and a literal flesh-eating feast, Yellowjackets' second season finally lived up to its stomach-churning potential. It might have upped the gross-out factor with a harrowing birth scene and roasting bodies, but the show remains one of the most suspenseful and unpredictable dramas out there. This list of books is just as refreshingly exhilarating, and, much like the show, covers a lot of jagged terrain. Whether you're looking to survive the rugged wilderness, creepy cults, or the messy minefield of teenage friendship, these books will take you into the dark woods of your own psyche and back again. And if you're craving depraved horror, dark humor, sapphic romance, or human flesh, get ready to dig in.
Ever since she was a young girl, Natsuki has been convinced she's an alien. Unable to conform to the trappings of adult life, she yearns to leave the suburbs behind and runs away to the Japanese countryside of her childhood with her cousin Yuu. Though described in deceptively straightforward prose, every step of her journey devolves into outrageous depravity. Few novels broach sexual abuse, murder, incest, and, yes, cannibalism with such unflinching bluntness. Earthlings is a perfect read for anyone craving Yellowjackets' most shocking moments on the printed page.
When a trio of 11-year-old girls catches a serial killer in the Pacific Northwest wilderness, they're rightfully hailed as heroes. However, when the accused murderer dies in prison 20 years later, the events that led to his arrest are called into question. Secrets kept for decades begin to unravel, testing childhood friendships in service of a truth that may be more dangerous than previously believed. It's familiar territory for Yellowjackets fans who are craving mysteries that finally escape the confines of the woods.
Upon turning 16, the girls of Garner County are forced to live together in the woods for a year as a means to rid themselves of the inherent power and magical allure they supposedly hold over men. Only the survivors are allowed to reenter their totalitarian society, which feels straight out of Atwood's Handmaid's Tale. Unsurprisingly, the titular time period soon devolves into a psychological horror show. Having grown up in a world that pits women against women, the girls are primed to be one another's biggest threat. Throw a water supply tainted with hallucinogens into the mix and, much like the results of Misty's magic-mushroom stew, the ensuing madness soon devolves into deadly violence. It's the perfect read if you're craving more of the show's bloody spectacle but in the context of a true dystopia.
When a plane of competing teenage pageant contestants crashes on a mysterious island, the struggle to survive is bitter and fierce as anything seen on Yellowjackets. And the humor is just as dark. Libba Bray has written a biting satire of consumerism and girlboss feminism for the young-adult set. With its corporate conspiracies reminiscent of Lost and characters straight out of the Mean Girls cafeteria, you'd think the rivalries would result in sharp and cutthroat backstabbing, but the plot manages to subvert expectations and social norms in a delightful way. We doubt Yellowjackets will end on such an optimistic note, but this novel fulfills the promise, potential, and hope of extreme genre hybrids.
When an exhausted stay-at-home mother undergoes a strange physical transformation, she initially questions her sanity but ultimately embraces her feral instincts. The character's sharp canines, newfound tufts of fur, piercing howls, and nightly prowls around the neighborhood leave the reader never quite sure what to make of this wolflike metamorphosis either. Toeing the line between legitimacy and lunacy, this journey is shockingly original yet grounded in real-life anxieties around the expectations of motherhood. It's a must-read for anyone who can't get enough of the ever-blurring line between the psychological and supernatural that Yellowjackets exemplifies. And much like Taissa in her fugue state, the protagonist of Nightbitch becomes an inadvertent threat to the family pet.
When a deadly virus known as "the Tox" strikes an isolated girls' boarding school, the students are left to fend for themselves as the infection rages on. The determined and steadfast Hetty breaks an 18-month quarantine after her best friend goes missing. She braves the rugged Maine wilderness to uncover the truth behind the strange disease's origins. Horror stories are rarely this sapphic, and much like Yellowjackets, part of this novel's appeal lies in the queer love story at its core. Three years into COVID's reign, pandemic reads may be a tough sell, but Wilder Girls is beyond captivating if you can stomach it.
At first glance, a graphic novel geared toward middle-schoolers might not have the broadest appeal, but The Breakaways is a tender and humorous all-ages read (and probably the only book on this list you and your kids can read together). Few stories capture the drama and dysfunction of soccer-team dynamics better than this brightly illustrated comic, in which a ragtag bunch of junior-high schoolers navigate life on and off the field. The Bloodhounds may not have the Yellowjackets winning athletic record, but this diverse group of girls is challenged by many of the same issues, albeit in a way lower-stakes environment. From feuding friend groups to racial-, sexual-, and gender-identity explorations, The Breakaways reflects the complicated realities of eighth grade.
When a teenage girl goes missing in an upscale 1980s San Francisco suburb, an entire community is shaken to its core. But after a major falling out, her best friend, Eulabee, remains skeptical about her whereabouts, believing her disappearance to be another attention-getting ploy. The pair's constant competition, conflicting views, and seething jealousy mirror Jackie and Shauna's intensely messy relationship and ultimate betrayal. Another insightful take on the pernicious dynamics of girlhood friendship and the devastation they can wreak well into adulthood.
Alive is a harrowing nonfiction account of the infamous 1972 plane crash, which stranded an Uruguayan rugby team in the Andes mountains and likely serves as the biggest real-life inspiration for Yellowjackets. For over two months, the group endured myriad hardships including extreme cold, avalanches, and starvation; some even resorted to cannibalism. Of the 45 passengers, only 15 survived. It's a classic of the survival genre, documenting brutal circumstances on a nearly unfathomable scale and freezing them permanently in the cultural imagination.
In 1995, five members of Aum Shinrikyo, a doomsday religious cult, were arrested following a chemical attack on the Tokyo subway. In this oral history, Murakami explores every aspect of that terrorist act, interviewing survivors and cult members alike. With acute curiosity and sensitivity, Underground plumbs some tough existential quandaries (just what drives someone to join a murderous cult in the first place?) and sheds light on the motivations of those who hunger for a greater sense of purpose and belonging — even if it leads to nefarious results. Perhaps these insights will be useful to future viewings as we learn more about Lottie and the secretive organization in Yellowjackets.
Desperate residents of drought-ridden Peaches, California, turn to creepy religious leader Pastor Vern to end a months-long drought and willingly abide by his progressively appalling methodology. No one is more vulnerable than the teenage girls of his congregation, especially 14-year-old Lacey May, who experiences abuse, abandonment, and pregnancy amid environmental disaster. The novel's witchy gothic tones are sure to appeal to anyone spellbound by Yellowjackets' battered and bloodied cottagecore aesthetic.
After her cabin burns down, Jess is left stranded alone in the remote Canadian wilderness. But in addition to braving the harsh environment, she's on a mission to avenge her father's death. It's a tale of survivalist, off-the-grid living in a landscape much like that of the Yellowjackets crash site. But it's also a suspenseful thriller, as the protagonist's motivation for staying alive is literal vengeance.