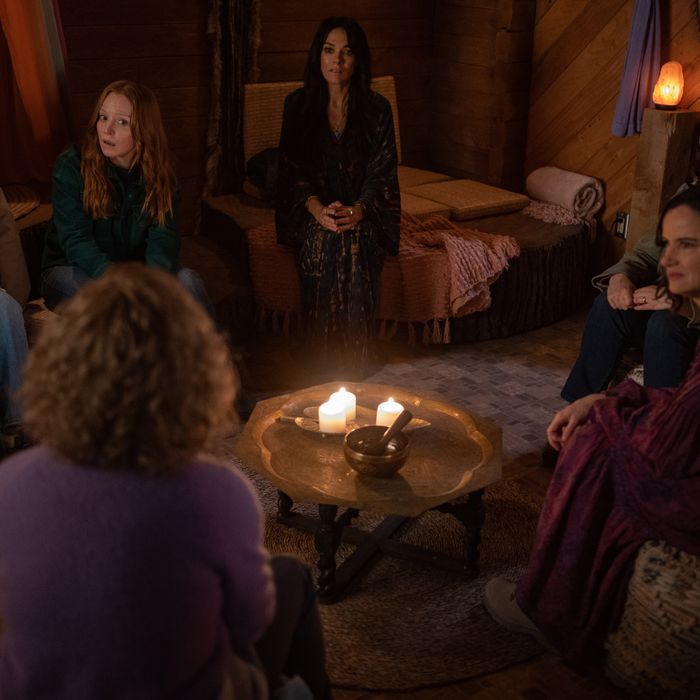 Photo: Kailey Schwerman/SHOWTIME/Kailey Schwerman/SHOWTIME
"It Chooses" is available to stream now via Showtime Anytime; it will make its Showtime network premiere on Sunday, May 22, at 9 p.m. ET.
One of the central questions of Yellowjackets has always been whether or not there was some supernatural entity out in the wilderness with the survivors of Flight 2525. As the second season inches toward a conclusion, we don't seem to be getting a definitive answer to this question, but it feels like we might be creeping closer to some semblance of the truth. The eighth episode of the season, "It Chooses," reveals that many of the things that viewers thought might possibly be supernatural in nature, um, weren't. Mari hearing the dripping noise? Hunger. Akilah's inexplicably tame and cuddly mouse friend? Dead. Again, it was hunger. Hunger will do funky things to the body's major organs before everything goes into full shut-down mode, so everyone in the cabin is literally losing their minds as they slowly starve to death.
As we check in with several of the survivors, the camera switches to their respective perspectives, allowing us to see through their eyes. Everyone's vision and hearing are severely impaired. At one point, Taissa hears her heart beating in her head and starts to dissociate, seeing the reflection of Other Tai in a window. Van sidles over to ask if she's okay, which is laughable because, to paraphrase the immortal words of Marsellus Wallace, they're all pretty fuckin' far from okay.
Given the compromised mental and physical states of the group as a whole, it's understandable that they all begin to cling even more tenaciously to their shared delusion of the wilderness as a sentient being. As Lottie fights for her life in the haunted attic, we see that she is struggling with the same starvation hallucinations the rest of the group is experiencing. The paneled window that played a prominent role in the séance back in "Blood Hive" looms large over all the Lottie scenes, reminding us that she might — or might not! — have been possessed by a French-speaking entity that claimed it wanted blood. If there is, indeed, a supernatural being in the wilderness, it sure does seem to be getting what it wants.
It tickles me to no end that the Yellowjackets — in both the past and present timelines — refer to the spirit in the wilderness as "It." Sure, this is a succinct way to refer to a nebulous entity, but the moniker also conjures up images from Stephen King's iconic novel It. Frankly, that book makes a compelling case that all disturbing forces are connected in some ancient, ancestral way, so perhaps Pennywise and Taissa's eyeless man are one and the same? It wouldn't surprise me! Something took Crystal's body, right? Who says that it wasn't a sewer clown with razor-sharp teeth? We don't know!
While we viewers don't have any solid evidence that something supernatural is going on, the adult survivors certainly believe something else was out there with them. It's been the primary focus for Natalie's and Lottie's story line throughout the season and something that has been explored with Taissa, Van, and Other Tai. (It's worth noting that Tai's "other" didn't appear until after the food supply started to dwindle in the wilderness and that eating dirt has historically been a common coping mechanism in times of famine. Only Lottie's mental-health issues preceded the crash, and it's fitting that in an isolated, desperate situation, the rest of the group would look to her altered perspective for insight.)
The adult women finally gather in Lottie's sharing shack. (Shauna's quietly anguished "Noooo" when Lottie suggests they meet in the shack is the second greatest line reading of the episode. The first is when Van petulantly shrieks "Fine!" before tossing Shauna's keys into the woods.) Then the women stop being polite and start getting real. Shauna, Nat, Misty, and Tai admit to their part in the Adam Martin murder/cover-up. Then Misty admits to killing Jessica Roberts and interrogating Randy. Her memories of Randy's conversation with Walter help her conclude that Jeff was the blackmailer all along. Van sits there with her mouth agape while Lottie prepares a solution.
Speaking of Walter, there's a very interesting, wordless aside in which we glimpse him in action. He's simultaneously completing two giant puzzles, drinking milk out of a snifter like a total psychopath, and listening to Barbra Streisand belt out "Not While I'm Around." In this song, a duet from Sweeney Todd, two characters promise to protect each other with one betraying the other after the conclusion of the song. However, it feels important that Walter listens to a solo version of this song, not the duet.
As the Adam Martin news breaks, Walter gets a bunch of notifications on his laptop. Walter emails the Wiskayok PD, saying he has information about the case. Then, with The Phantom of the Opera soundtrack blasting in the background, Walter grabs a messenger bag, contemplates a purple coat, and off he goes. The final lyrics we hear promise that he's off on a journey to a "strange new world." These scenes initially feel as though Walter is going to turn Misty in, but given his affinity for puzzles, this solution feels too easy. No, there's something more complex afoot.
The cops are on Shauna's case and pop by the Sadecki homestead. I'm so ready to be done with this story line, but a few things are worth mentioning here. First, Kevyn and Matt show Jeff pictures of the decomposing body that they identified using Adam's bone marrow. (The torso is not useless, Misty!) In a weird twist, they seem to know about Shauna's past as an efficient butcher of human bodies. This is a fact that they could not possibly know, even if the world does suspect the Yellowjackets of resorting to cannibalism in the wilderness.
After seeing those gory pics, Jeff has a wacky sex dream about Shauna carving him up, which feels experimental and weird in the way Misty's musical journey felt last week. He wakes up to find Callie in the living room, and we find out that he knew (!) about the wilderness baby. Whether he found out from the journals or Shauna directly is unclear, but this reveal underscores why he feels so connected to Shauna. Callie is horrified to learn this information, but it gives her the glimpse into her mother's mangled psyche that she's been so desperately wanting her entire life.
The trauma that the Yellowjackets experienced is so unspeakably terrible that the adult survivors can't even bring themselves to talk about it, even when they're in a safe space with only other survivors present. Instead, led by Lottie, they continue to use the mysterious wilderness spirit as a scapegoat for all their ills. Lottie pours six drinks, spiking one with deadly phenobarbital, and suggests that they give It what It wants … which is one of them?! Bitches will literally play Russian roulette instead of going to therapy, amirite? Here's when we remember that Lottie's memory of Travis's death felt very much like an unreliable narrator was telling it. If Lottie still worships It, and It wants blood spilled from the survivors, then who knows what she did or didn't do to Travis.
The poison-cup situation in the present is left as a cliffhanger, but we do finally see a true sacrifice in the wilderness. The sequence is, in turns, horrifying, electrifying, and heartbreaking and concludes with the survivors getting exactly what they need to survive.
Interestingly enough, many of the wilderness scenes throughout this episode have a distinct Alice in Wonderland vibe. As the hunt begins in the cabin, Ben is conveniently absent. After Natalie tells him that she saw Javi bowing to one of the symbol trees, Ben checks out Javi's drawings. It's an eclectic collection, including rabbits, landscapes that have the vague shape of the mystery symbol, and a detailed root system. Ben has found a new purpose: He will check out this tree. When he arrives, it feels like Alice heading down the rabbit hole to a new world. He sweeps away a branch and finds an opening that leads underground. Ben finds evidence that Javi had been living there for some time. What else could be hiding within the other symbol trees? It's a true mystery-box situation!
If Ben is enacting the beginning of Alice in Wonderland, then the rest of the survivors are playing out the conclusion. The final scene of that story sees Alice run from the mad Queen of Hearts to escape persecution for a crime she didn't commit. So it's no coincidence that the group uses the queen of hearts as a marker for death. When Natalie selects this card of doom, Shauna loops Jackie's heart necklace around her neck (weirdly, there's no explanation for this part of the ritual) and steps up for the kill. Travis loves Natalie, and he's also experiencing flashbacks from Doomcoming — a.k.a. the time Shauna almost sliced his neck open — so he shoves Shauna aside and screams for Natalie to "run!"
She does. And her flight is aptly scored by "Bullet With Butterfly Wings" by the Smashing Pumpkins. Despite all her rage, she's still just a sitting duck in a winter wasteland. When all hope seems lost, Javi offers to help her and leads her to his hidey-hole in the woods. Yet for some inexplicable reason, he chooses to run out in the open over the frozen lake. Perhaps spring is coming after all, because the ice gives way under his feet and he falls in. Natalie tries to help him briefly, but then Misty races over and tells her not to. All they need is a body, and it's Javi's or Natalie's. So they let Javi die, watching him flail helplessly in the water and then succumb to the cold. In a chilling moment, Van proclaims, "The wilderness chose." But did it? By not stepping in to save Javi, it feels more like the collective group consciously chose this heinous fate, the wilderness a convenient foil for their gnawing guilt.
Buzz, Buzz, Buzz
• Tune in next week to find out who gets to eat Javi's high-calorie butt meat!
• Javi once told Ben that he had a friend in the wilderness. Some have suggested that this could be Other Tai, but I feel like Javi would have approached Tai at some point in time after his return if that had been the case. So who's this "she?"
• It's been a while since we've had an official Jessica Watch in this section, but after Misty's admission that she killed Jessica, I believe my Jessica Watch has ended.
• Unless Mr. Walter Tattersall is headed out to perform a miracle, it's feeling more and more impossible for these women to get off with the Adam Martin murder scot-free. Let me just say that if this show turns into a version of Orange Is the New Black, in which all the adult Yellowjackets collectively rule a prison, I'd be into it.