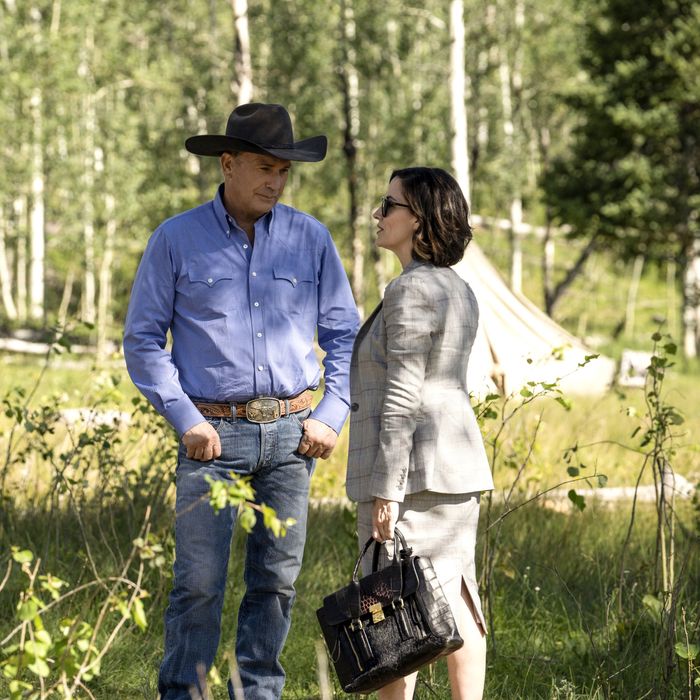 Photo: Cam McLeod/Paramount Network
Through the first three episodes of Yellowstone's third season, the show has mostly been humming along in a pleasantly low key. For sure, not much has happened — aside from some rich character moments. But there's also been very little to cringe about.
That all starts to change with episode four, "Going Back to Cali," which cranks up some of the outrageousness for which Yellowstone used to be notorious. Just look what happens to Jimmy, who begins this week laid up in the hospital with a broken back, after his rodeo accident. While Jimmy's getting his catheter removed, his new girlfriend Mia walks into the room, takes one look at his exposed genitalia, and is impressed when the nurse insists that what she's seeing there is not merely "swollen." She comes back later and asks how Jimmy's doing, and after he runs down his litany of aches and pains she says, "How's your pecker?" And then she crawls into his hospital bed, intending to pop his stitches … so to speak.
The Jimmy and Mia scenes don't add much to this episode. They're earthy and outsized, informed by writer Taylor Sheridan's cockeyed sense of humor. If they don't make you laugh, well … that's a problem, because they're kind of corny, and they go on for a while. And it feels like there's a lot more scenes like that in "Going Back to Cali," at least relative to what we've seen earlier this season.
Having said that, I have to admit that Jimmy and Mia are balanced out nicely by Rip and Beth, who share a pair of the most touching scenes of the season thus far — both set on Rip's porch. In the first, Beth greets Rip at twilight by sitting in his lap and calling him "baby," which he loves. He then asks what he can call her and she reflexively answers, "Wife." The next morning, worried she's just scared Rip away, she warns him that she can't have kids, and hints at even deeper issues when she says, "There's only so much I can give to you." He chuckles, "This world doesn't need another generation of me." ("I don't even like dogs," he says.) He adds that he takes nothing for granted with Beth. "I look at every day with you as a gift."
Both scenes are beautifully staged by the actors and director John Dahl, with an emphasis on the physical connection between these characters. The wider world is seen just in slivers behind their faces and bodies, which dominate the frame. I know Sheridan's only setting up this idyllic romance so he can destroy it later this season. I've watched prestige TV dramas before. But it's still enjoyable now, to hear Rip distill what he has with Beth to a series of tender moments. "I'd like it a whole lot better if you were here when I got home," he says. What a lovely thing to want.
Most of the rest of "Going Back to Cali" is about moving on to the next stage of the season's coming fight: between the Montana citizens who want to preserve their land and culture, and the venture capitalists who want to build airports and ski resorts. Chief Rainwater gives a stirring speech about why he's been buying land and planning casinos near the patches the interlopers intend to claim. It's because he wants to make their lots less desirable, to further his ultimate goal of keeping new residents away from the heart of Yellowstone, which resembles America the way it looked hundreds of years ago. ("On land that hasn't been ravaged by man, you don't need to buy food," he muses, rejecting concrete and shopping centers.) But his advisors bring him back down to earth, warning him that Providence Hospitality Management isn't going to compromise with him or buy him off. They're just going to force the government to seize whatever land they want.
The actual governor, as we know, is working behind the scenes to prevent this. She trucks up the Duttons' summer camp to explain to Kayce why she needs Jamie to move up to the AG's office and Kayce to be livestock commissioner: It's because the Duttons are stubborn cusses who'll make life difficult for PHM in ways she couldn't … at least not without losing her job.
In the governor's little outing, though, Sheridan can't resist indulging in a little hero-polishing for John. He has Governor Perry coo over John's "drop your dress" look, and ooh and aah over how, "You're always three steps ahead." Naturally, the next morning we see her sheepishly stepping out of his tent. Who can resist the charms of that ornery so-and-so?
This vision of John Dutton as the Last Righteous Man plays into the way this episode ends — with some real old-school Yellowstone shenanigans. When a motorcycle club plops down on Dutton land for a boozy picnic, the ranch hands politely but firmly ask them to move their party down the road, to where the actual Yellowstone park is. When the gang picks a fight instead, Rip plows his truck into their hogs, before he and Lloyd chase them away with guns. Knowing the bikers will seek revenge, Rip calls on John, who waits in the dark of night for the club to come back. He seems to reason with them first. ("If I did this to your home, what would you do?") But then he lights up the field to reveal his own posse behind him, and he orders the trespassers to dig their own graves.
To be fair, in Yellowstone's first season those men would've probably actually been killed and buried. John has mellowed enough to let them go (back to California, per the episode's title). But this sequence is a signal of where we're headed in the weeks to come. "Summer's over," John snarls. It's time to get back to the business of violently ejecting anyone who thinks it's okay to park their ass in Dutton grass.
The Last Round-Up
• Jimmy reluctantly admits to Mia that he's a virgin before she climbs atop him at the hospital. He hopes the same is true for her, but she laughs that off. "I'm a barrel racer. Losing your virginity's like a requirement to compete." (Mia has a habit of saying "I'm a barrel racer" by way of explaining whatever she does.)
• Mia's seduction of a man in traction isn't even the goofiest sex scene in this episode. The champion there is the liaison between Kayce and Monica, who can't seem to stop boning in the woods, often with a big wolf as their audience. Kayce wants to slay the beast but Monica won't let him, cooing, "Don't stop lovin' me to kill something." That's called romance, right there.
• I'll be honest: It was always going to be hard for this episode to crack the three-star barrier because it's so lacking in Josh Holloway. There's not even a Roarke/Beth back-and-forth this week, except in a roundabout way. She leaks information about the challenges his business partners are going to face in Montana, and his company subsequently takes a beating in the market, which makes him give a knowing smirk. All told, there's about two minutes of Roarke-related screen-time. Not enough!
• Here's another one for the "John Dutton is jus' plain folks, not a helicopter-owning multi-millionaire" file: He chastises Jimmy for risking his livelihood at the rodeo, complaining that he's making the hospital rich. ("They won the lottery with you," he growls.) John then magnanimously tells his employee not to worry about the medical bills, which raises a question: Shouldn't the Dutton ranch have a health plan? Dental? 401(k)? Or at least burial insurance?