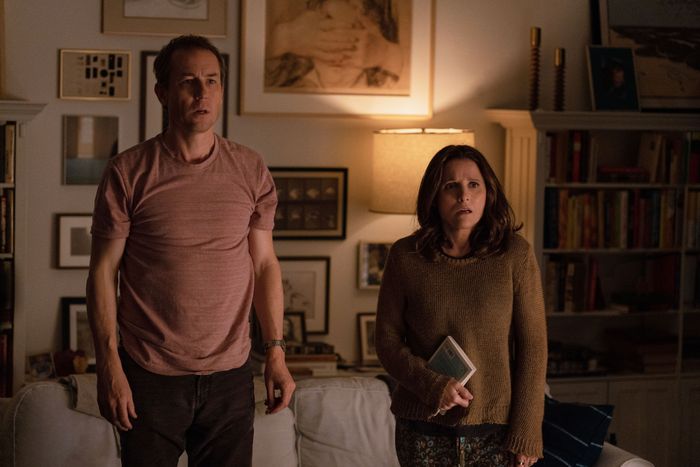 Julia Louis-Dreyfus doesn't quite mesh as an author upset that her husband doesn't like her work.
Photo: Jeong Park
You Hurt My Feelings is about middle-aged adults who stumble their way into a surprisingly immature argument. As indicated by the title, which has the plaintiveness of a playground complaint, the characters are aware their grievances are petty. But that doesn't make the emotions they're grappling with any less immediate. "This whole world is falling apart and this is what's consuming you?" Don, a therapist played by Tobias Menzies, wails at his wife, who's distraught to learn that he doesn't actually like her new book. Said wife, an author and teacher named Beth (Julia Louis-Dreyfus), responds that her particular world may be small and narcissistic, but it's the one she's got. This acknowledgement manages to be more irksome than the slightness of the movie's conflict, as though You Hurt My Feelings had internalized that social-media tendency to couch everything in qualifiers and apologetic acknowledgments. Beth and Don have first-world problems because they lead a blessedly first-world existence in New York, where they share a roomy apartment whose spare bedroom their 23-year-old son, Eliot (Owen Teague), returns to when he's having girlfriend troubles. It's their charmed lives we're watching onscreen — do we really need the asterisk to assure us that they're aware that others have it worse?
You Hurt My Feelings comes from Nicole Holofcener, who's been a maestro of unspoken resentments and small slights since her 1996 directorial debut Walking and Talking. You Hurt My Feelings is Holofcener's seventh film, her first in five years, and it's hard not to think about the degree to which the kind of sharp, female-centered comedy she specializes in has been shoved from the big screen, especially when looking over her filmography, which has been increasingly dominated by episodes of other people's TV shows. Maybe that accounts for the air of hesitancy in her latest, which, like Kelly Reichardt's superior Showing Up, deals with coming to terms with the fact that the art you've put your heart into is unlikely to make a big splash. Beth's first book, I Had To Tell It, was a memoir about her father's abuse — verbal abuse, everyone's always quick to specify, and she jokes to her disapproving mother (the always superb Jeannie Berlin) that "maybe if dad hadn't just been verbally abusive, it would have been a best seller." The novel she's spent the past two years working on is meant to be her follow-up, except her agent hasn't been in touch, and when she overhears Don admitting that he also doesn't care for the work, despite acting as her main adviser and cheerleader, she spirals.
This is Louis-Dreyfus's second collaboration with Holofcener, after the lovely rom-com Enough Said with James Gandolfini, though they don't quite mesh here. Louis-Dreyfus signals comedy with her performance when Holofcener's script finds its laughs in characters playing things straight — a scene in Beth's writing class would have landed better if she weren't so clearly projecting the character's bemusement at her students' proposals. When Beth flees from the scene of Don's unknowing confession, Louis-Dreyfus leans into the physicality of her character threatening to throw up while never selling the genuine distress she's supposed to be feeling. Louis-Dreyfus is an engaging lead, and her cuddly rapport with the hangdog Menzies is convincing, but she puts air quotes around the film's central conflict in a way that seems to confirm its triviality. Meanwhile, the other characters struggle with their own desires for validation. Beth's sister, Sarah (Michaela Watkins), an interior designer, struggles to find a sconce to please a picky client while her husband, Mark (Arian Moayed), vows to quit acting after getting fired from a play. Don wonders if he's really making a difference in his clients' lives (David Cross and Amber Tamblyn, as bickering marrieds, are a highlight of the absurdly stacked cast).
Rather than bolster Beth's crisis, these secondary storylines dilute it because what Beth's struggling with is so specific. At the heart of You Hurt My Feelings is the terrible vulnerability of making art, a process that's intensely personal, and then releasing it to an indifferent world. Beth's sense of betrayal on learning that Don's been lying to her about his real opinion is accompanied by the unspoken understanding that she would have been just as crushed if he'd been honest with her from the start. What she wants is for her work to be loved, and if the person she loves most can't do that for her, then what can she hope for from everyone else? This feeling may be childish and unfair, but it's also raw and real, something the movie never really embraces. You Hurt My Feelings takes place in a sunny New York shot at peak allure, amid people leading the kind of comfortable middle-class lives that in reality are nearing extinction in Manhattan. It's warm and inveigling, but what it could use is a little more emotional ugliness.