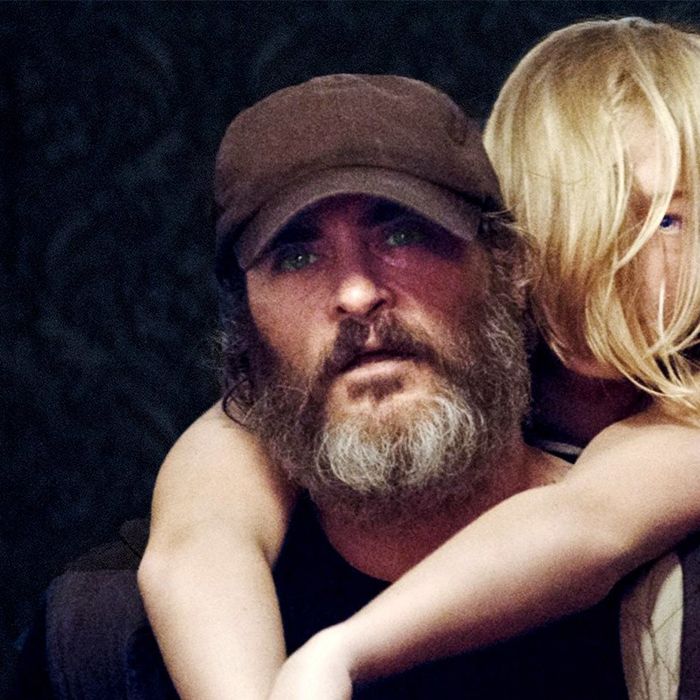 You Were Never Really Here.
This review originally ran during the Cannes Film Festival.
It's hard not to wish there were more Lynne Ramsay movies, period. The Scottish filmmaker responsible for modern masterpieces Ratcatcher and Morvern Callar takes extended breaks between films, partially of her own accord, partially due to development debacles. (Her last slated film, Jane Got a Gun, got especially hairy, and Ramsay walked off the project before the first day of filming.) The bright side, hypothetically, is that her very spare output ensures that she means every single one of them; that there is nothing casual about a Lynne Ramsay film. Which is why I cannot casually dismiss You Were Never Really Here, Ramsay's first film since 2011's We Need to Talk About Kevin. Cinematically, it's undeniably gripping, a tightly wound contraption of nervous energy, grief, and gore. But it's in service of a story that's been told countless times before, and it's not clear where Ramsay's usually singular point of view is in play.
The film opens with an elliptical series of images: a burning photograph, scattered jewelry, a seedy motel room. Ramsay is a master of strategic disorientation, withholding information and forcing the viewer to feel what's going on, rather than puzzle it out, and she's in fine form in these opening moments. We soon learn Joe (Joaquin Phoenix) is a war veteran who now makes a living finding girls who have been kidnapped by sex traffickers. He's just finished another successful mission, but it seems there's not much in the way of job satisfaction. The countdown, it turns out, is Joe's attempt to suffocate himself, which we soon learn is somewhat of a habit for him. Joe's next mission sends him in search of Nina (Ekaterina Samsonov), the 13-year-old daughter of a gubernatorial candidate, who's being held by a clandestine ring of Manhattan pedophiles. And we are thereby introduced to our all-too-familiar key ingredients: a troubled man, a missing girl, and an evil syndicate.
The film is based on a novella by Jonathan Ames, which was published in the halcyon, pre–True Detective days of 2013. Still, a good filmmaker should be able to make the familiar fresh, and in many ways, Ramsay does. Joe's one-man raid on the trafficker's headquarters is a tour de force of editing and music, the rotation of security cameras and the eerie skip of a record creating a kind of off-kilter rhythm that's both surreal and thrilling. The nighttime drives through the city have a kind of measured, manic energy, Thomas Townend's camera panning around the bodegas and bars with unsettling precision. Visually and stylistically, Ramsay has never been more assured, and Johnny Greenwood's mournful and energetic score is among his best. It's her leading man, and his connection to his adolescent charge, that feels dismayingly empty.
Regardless of your feelings on either of them, it can't be denied that Phoenix and Ramsay are more or less made for each other. Both are intense, capital-A artistic personas, allergic to half-measures, for better or worse. Phoenix is Ramsay's first male protagonist since 1999's Ratcatcher, but he bears more resemblance to the quietly shattered women at the front of her subsequent two films. At any rate, it's not the first time Ramsay has focused on a protagonist with a death wish. But it's less surprising territory for Phoenix, who once again seems to be dredging up the darkest depths of his soul for us onscreen, gasping and literally rending his garments from his asymmetrically muscular, scar-mottled chest, 0 to 100 in every sequence. It's not grounded by much except his relationship with his sweetly melancholic senile mother (Judith Roberts,) whose scenes are some of the film's best. Nina becomes a kind of platonic avatar of calm for Joe — he turns out to be yet another grizzled middle-aged man who finds redemption by the side of a tweenage girl.
When everything goes sideways about halfway through the film's brisk 88 minutes, the déjà vu of the plot only becomes more unshakeable. Ramsay has said she is still in the process of editing the film (the cut screened at Cannes didn't even have end credits), and I look forward to seeing her final version. But the emotional meat of what she's working with here doesn't feel as vital as past projects, especially given the unrelenting violence and gut-churning details of the trafficking ring. You Were Never Really Here is a powerful assault of a film, but it's missing its director's inimitable poetry.