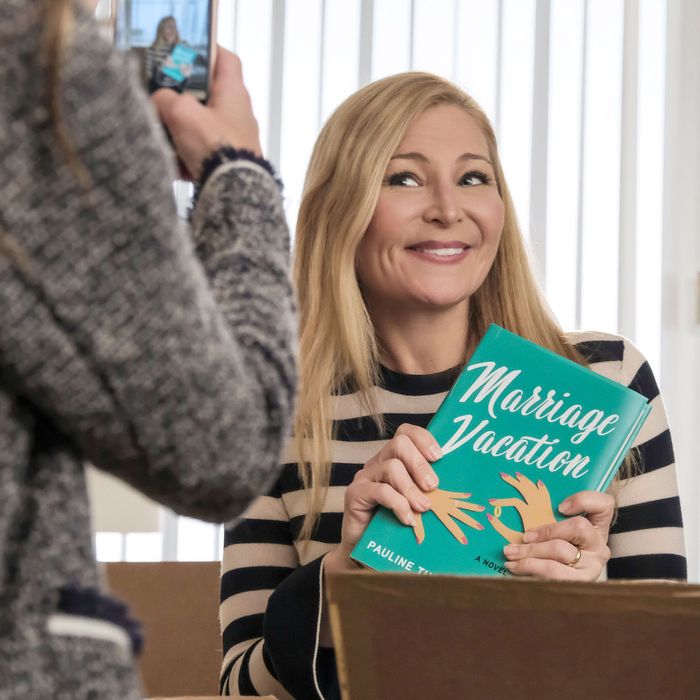 After four seasons of teasing us with books we'll never be able to read (but what did the labradoodle have to say in Pearls of Wisdom?!), Younger has actually published one of its fake novels. Trippy, right?
Last season, much of the drama in the TV Land series had to do with the return of Pauline Turner Brooks, the estranged wife of Empirical Press's head honcho Charles Brooks: After a year of being totally MIA, Pauline shows up with a novel called Marriage Vacation in tow. It is a not-so-thinly-veiled look at the dissolution of her marriage to Charles, as well as what she did after vanishing from her husband and two daughters' lives. And as of June 5 — a.k.a. the same day as Younger's season-five premiere, a.k.a. today! — you'll be able to read that novel.
Marriage Vacation tells the story of "Kate Carmichael" as she reclaims herself by running away from her marriage to "Karl Carmichael" and toward a year-long adventure that leads her to a swanky wedding in California, a refugee camp on the Thai-Myanmar border, and a ranch in Australia before she returns to Manhattan to repair things with Karl. The novel is a little different than what Younger has suggested — it's definitely more commercial fiction rather than the Next Great American Novel — but it's an easy, breezy read perfect for the summer. It's also a little treat for true Younger fans: Although Marriage Vacation is most assuredly Pauline's story, Easter eggs about the show are hidden throughout both the book itself and the narrative. Lucky for you, Vulture pulled out the most important connections between the book and the show that created it. Did we skip ahead to page 58 first? Uh, yeah. We're not totally crazy.
Page 58 isn't the only steamy sex scene
The ladies of Younger were right to be hot and bothered over what — ahem — goes down on page 58. Much is made of the buttoned-up Charles Brooks's sexual prowess throughout the novel. We already knew about size, thanks to that whole Empiriconda Scandal, but did you know that Charles could get his wife to climax in under two minutes? Now you do. Now everyone does. Apparently, Charles is good at everything. Well, except at being emotionally available and also telling the difference between a 26-year-old and a 40-year-old.
The Empirical vs. Millennial war has a victor
The season-four finale found Kelsey and Liza trying to keep Marriage Vacation at Millennial Print, while Charles, Diana, and Zane made the executive decision to move it to Empirical. Their argument was that Marriage Vacation wouldn't be taken seriously by critics coming from an imprint that also published a self-help book from a labradoodle. To which we say, expand your minds! That labradoodle book made a lot of money! Based on the Millennial logo located on the spine of Marriage Vacation, it seems the ladies have won this battle. It's a little thing, but it points to the drama awaiting us this season. Why does Charles have a sudden change of heart? Will the loss cause Zane to do that smoldering-skulking thing he's so good at? Finally, the spine of a book gets its day in the sun!
Charles is even more of a Romantic Handsome Nerd than we thought
We've known all along that Charles Brooks is the studliest bookworm to ever grace our televisions: His version of flirting is working on the New York Times' "By the Book" section, he takes dates to Hemingway-artifact exhibits, he tells ladies he is "fond" of them — all swoon-worthy to anyone with eyes and hearts. Still, thanks to the love story of Kate and Karl Carmichael (Is Karl Carmichael the most difficult name to pronounce in the world? Discuss.) in Marriage Vacation, we now know Charles's nerdy romantic-ness knows no bounds. In the acknowledgements, Pauline talks about meeting Charles in a Paris bookstore, so Kate and Karl's meeting in the book is a recreation, which means we can also assume that Pauline and Charles fell in love talking about Henry Miller, he used to read Edna St. Vincent Millay poems to her in bed, and he proposed with a bookish scavenger hunt around Paris. A SCAVENGER HUNT, YOU GUYS. I know page 58 is very exciting, but why weren't more Empirical employees talking about the scavenger-hunt proposal?
Pauline is great at writing flirty fiction, but terrible at pseudonyms
In season four, Younger made a joke of Pauline dragging an old friend through the mud with a thinly veiled character in Marriage Vacation. Her friend's actual name is Louise, and Louise is a overly proud Wharton alum who invented "Pinx," slimming period panties (yes, we know), while the Marriage Vacation character "Lois" is an overly proud Harvard alum who made "a fortune selling panties that you could essentially pee in." Liza was concerned that Pauline didn't hide the connection well — it is not subtle at all — but not concerned enough to actually make that change in the novel. It is not the only offense: "Kasey" is a 20-something "rising star at Paradigm" (a clear stand-in for Millennial Print), who wears skirts that with one movement could offer "the entire room a glimpse of her labia." "Donna" is Paradigm's "Machiavellian head of marketing." Liza is there too, but as "Lena," a "sweet and curious" voiced marketing employee who babysits for Karl. Liza gets a great edit, and let's be real, Diana would love to be referred to as "Machiavellian," but Kelsey might be miffed.
Pauline definitely isn't #TeamCharles, but she probably isn't #TeamJosh, either
In Marriage Vacation, Kate Carmichael meets a young, charming backpacker named Derek. He's very Josh: all tattoos and tank tops. But Kate's reaction to him is very different than Liza's: Where Liza smashed faces with Josh, Kate rolls her eyes at Derek. She feels older just thinking about how she must look to someone his age. The two grow closer throughout the novel, but they never get to smash level. Pauline and Liza may share affection for Sad Dad Charles, but that's where the similarities in their taste ends. Liza digs a younger dude, obviously, but if we're to believe Marriage Vacation, Pauline is attracted to older men. Which leads us to another thing we learned about Younger, perhaps the most important thing to all …
They're hiding a hot Australian cowboy from us!
Toward the end of Marriage Vacation, Kate leaves Thailand after a car accident and recuperates on Derek and his sister's Australian ranch. It's a whole thing. Just know that it is here where she meets Derek's father, a quiet, widowed cowboy named Dusty. He is a dreamboat. The two connect and then they connect … by which I mean they share a short but steamy kiss after a rainstorm, but alas, they are both in love with other people. Since we've yet to discover how much of this Thailand-Australian adventure actually happened to Pauline, we don't know if this Dusty action is for real. Still, he must be based on someone. Show us Dusty, Younger. We deserve the cowboy!
The acknowledgements section hints at DRAMA
Pauline's acknowledgements are short and sweet. She does not thank Kelsey Peters, the editor-in-chief of the imprint publishing her book. She does not thank Diana Trout, head of marketing and Queen of New York. Aside from her two daughters, Pauline only mentions Liza, whom she thanks for being such a dedicated editor, but who she is "even more grateful to count […] as a friend." She also pays tribute to Charles, calling him her "inspiration" and "the love of [her] life." Yeah, so that's going to be a problem. Everyone knows Pauline is thirsty to reconcile with her well-read, hunky tree of a man — the end of Marriage Vacation is your classic H.E.A. in which everything works out and Kate and Karl are happier than ever. How will Pauline react when she discovers that not only has Charles moved on, but he's fallen for her editor? AND FRIEND? Pauline and Liza are headed for some major conflict. Maybe it'll inspire Pauline's second novel, hopefully titled The Dusty Chronicles Part 1: How I Defeated Editrix Lestrange and Let the Cowboy Take Me Away. Diana can sell that, right?