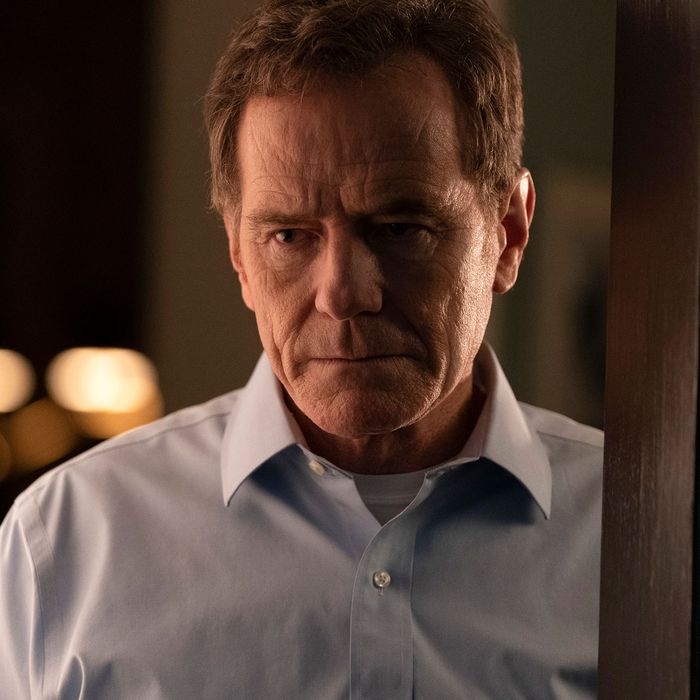 Photo: Courtesy of SHOWTIME
A lot of comparisons have already been made between Your Honor and Breaking Bad, given Bryan Cranston's performance here as an upstanding public servant who crosses the line into criminality and presumably continues to improvise a path to total damnation. But there's an important distinction between Michael Desiato, his New Orleans judge in Your Honor, and Walter White, the science teacher turned meth maestro in Breaking Bad. Walter only ostensibly wanted to help his family by leaving stacks of drug money behind before succumbing to a terminal cancer diagnosis. What he actually wanted — and what he finally admitted to his wife in their very last scene together— was to be Heisenberg, the fearsome drug kingpin he risked everything to become.
In other words, to say that Walter White went down a slippery slope is to deny his active intent; he wore swim trunks and dove head first down that slippery slope. The moral calculations of Your Honor are quite different, at least in this promising first episode, which carefully lays out his decision-making in a bid for our sympathies. Call it Breaking Bad But Understandable Given the Circumstances. As Michael, his essential decency is strongly emphasized in the beginning, as is that of his son Adam (Hunter Doohan), whose hit-and-run incident isn't without some desperate attempt to take responsibility. This first episode is constantly implying the question, "What would you do?" and having us measure just how far the Desiatos have come up short.
The first half neatly juxtaposes how Michael and Adam's days unfold without immediately making it clear that they're father and son. Michael goes on an early-morning jog through New Orleans, covering so much territory that it's a relief to learn later on that he's training for a marathon. Meanwhile, Adam grabs Chekhov's inhaler and heads out in a Volvo station wagon with a few cut flowers from the front of his house and a picture of his late mother. Both are mourning her in their own ways: Michael stops to take a breather at the graveyard and Adam lays out the picture and the flowers in front of a convenience store in the lower 9th ward. The circumstances of her death are a mystery tabled for another time: A group of young men from the neighborhood are not happy to see Adam around, and their threatening demeanor starts to send him into his fateful panic.
Adam is on a collision course with Rocco, who we know only as a teenager from a wealthy family who's testing out the vintage motorcycle he's been given as a birthday present. The identity of the family is the episode's biggest switcheroo, because it upends Michael's plans to do the right thing at a crucial moment. But the episode is smart to leave the audience in the dark about Rocco's family, because that would cloud all the decision-making that happens before the big reveal. For now, all we need to know is that Adam's asthma kicked in at an inopportune time and he ran over Rocco while reaching for his inhaler.
The sequence that follows is the strongest in the episode, because Adam's actions introduce a lot of ambiguity. After the accident, his first instinct isn't to find that damned inhaler and save himself, but to stumble his way over to Rocco and try to help him. He attempts mouth-to-mouth and it fails. He uses the victim's cell phone to call 911 but doesn't have the breath to get the words out. It's only later, after willing himself back to the Volvo and taking some puffs from the inhaler, does he look around and see that there are no apparent witnesses to this act of manslaughter. And so he takes off.
Of the two, it's really Adam that's breaking badder than his father, whose instinct to protect his son doesn't initially extend to covering up a crime. Make no mistake, there's a strong note of privilege here to a son calling on his powerful, politically connected dad to clean up his mess. And Michael surely knows the right lawyers and cops to call to give his son the softest landing possible. But the fact is that Michael pushes Adam to come forward and turn himself in for the incident, which is what a law-abiding (and law-enforcing) person should do. It's only the victim's family that changes the calculus.
Once it's revealed that Rocco's father is Jimmy Baxter (Michael Stuhlbarg), "head of most vicious crime family in the history of this city," Michael abruptly changes to Plan B. It's here that we're solidly in Walter White territory, with Cranston frantically covering his tracks. Perhaps there will be one or several points down the line when Michael enters into morally indefensible terrain, but the stakes are clear enough for now: Either he destroys all evidence linking Adam to the hit-and-run or the Baxters will hunt the young man down on their own. He's in a difficult spot, but not one where his conscience should bother him. This is the rare time when tossing the bloody remnants of a crime scene off a bridge in the middle of the night is probably the right thing to do.
Beignets:
• There are times when I wish half-star options were available on the Vulture five-star scale, because this is more a three-and-a-half than a four. But I'm provisionally optimistic that Your Honor is off to a solid start, so a three-star rating seemed too glass-half-empty.
One area where this episode does do some calculation is on the issue of race. Adam getting surrounded by menacing Black men in the 9th ward, one of them packing a gun, is provocative without knowing the context for why they might be angry over him leaving this memorial for his mother. And so Michael's moral bonafides are offered as a counterbalance in a case before his court, where he intervenes on behalf of a Black family whose lives could be ruined by the shaky testimony of a white cop. Something to watch for in future episodes.
Many loose ends in the cover-up plan: The SUV that follows Adam until he gets in the accident and then peels away; the gas station where he fills up an empty tank; the nosy neighbor across the street; the bloody garment that Adam's dog swipes and tucks away in the house; the inhaler that one of Baxter's goon finds at the scene. There's probably more to come, too.
"Whoever you are, wherever you are, you should know you will be found." Jimmy Baxter not even pretending that he's not a gangster, is he?