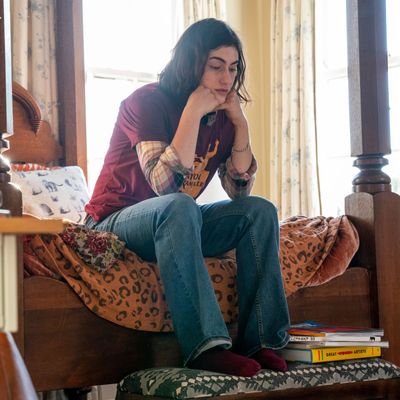 Photo: Skip Bolen/SHOWTIME
There was never any time for Adam Desiato to process what he did and what happened to him. When he hit Rocco with his car, what he learned about himself was disturbingly ambiguous: He was decent enough to crawl away from his car, wheezing from an asthma attack, to help Rocco and use the victim's phone to put in a call to 911. But then he was also self-interested enough to scan the scene for witnesses and peel away, in the hope that he wouldn't be held accountable for his actions. Once his father got involved, Adam was "taken care of" in a way that's become increasingly unsavory to him. His dad may be protecting him, but his conscience is being suppressed.
At the same time, he's a massively frustrating character, because he doesn't understand the stakes like his father does. Michael is a judge in the real world, with all its compromises and injustices, and he knows that "doing the right thing" in this circumstance would not only land Adam in prison (which he would accept), but put him in the crosshairs of the Baxter family. But the whole affair has turned his son dangerously passive, making Adam feel like he's being handled at a time when he should be squaring up to his decisions and their consequences. The effect is to leave him adrift, marinating in guilt and playing chicken with his own fate.
Part Three of Your Honor does well in documenting the division between the Desiatos, as Michael hustles to plug up the holes in his plan, which has turned into a slice of Swiss cheese, and Adam mopes around with his camera, taking incriminating pictures of his bruised-up body, the crime scene, and the prison were Kofi is paying for his sins. When the two finally come together late in the episode, Adam is getting his fingerprints taken by Michael's cop friend, Nancy Costello, who has taken to the stolen car case with an upsetting brio. As Adam confesses to lying about not having driven the Volvo, it seems like his recklessness is going to do them both in, but it's another kind of deception, which gives his father some relief but deepens his anguish. He winds up spilling the beans later to Frannie (Sofia Black-D'Ella), his photography teacher/girlfriend, who clearly doesn't want to hear it.
Even Michael seems slow to realize the implications of what he's doing. In the opening scene, he runs an elaborate ruse on the clerk at the gas station where Adam stopped after the accident. He wants access to the surveillance footage so he can get information on the car behind the Volvo and erase the whole section, so he makes up this story about his wife having an affair. He also pulls the same move Walter White did when he bugged his DEA brother-in-law's computer in Breaking Bad: Weep until his mark is uncomfortable enough to leave the room. The mission is a success, but for now, it seems like a lot of fuss over a small detail. He's got much bigger problems to solve.
One common theme is that all the friends Michael is manipulating on his son's behalf are too good at their jobs. Nancy is the gung-ho cop who will stop at nothing to find the bastard that stole his car. Charlie is working connections down the system and onto the streets to keep the Kofi Jones situation under control. And now Lee Delamere, the former star clerk who's serving as Kofi's pro bono attorney, looks like she'll be successful in getting the charges dropped on police brutality charges. That's not necessarily a great development for the Desiatos, even if they wind up feeling better about springing an innocent man for pleading guilty to Adam's crimes.
The biggest new wrinkle in tonight's episode is the surprise emergence of a third Baxter child, Carlo Baxter (Jimi Stanton), who is a couple of weeks from ending a prison term for the brutal near-murder of a Black gang member. His father Jimmy believes that Rocco's death might be a year-late retaliation for Carlo's attack, so he's considering his options on how to respond. Not to be out-stereotyped by Michael Stuhlbarg as Jimmy, Hope Davis gobbles up scenery this week as his wife Gina, who advises her husband to strike hard. ("We go big. We go big once. And that ends it.") She's not a Carmela Soprano-type, trying to deny her place in the family business. She's more like the devil on the devil's shoulder.
In true mob-wife fashion, Gina sets off to a parole hearing with a big cross around her neck, anxious to persuade the powers-that-be that she and her son have found Jesus and he will walk the right path from now on. (She also brings an envelope full of cash. For the "chapel.") But then she hatches another plan for Carlo's final days in prison: If she can get him transferred to Kofi's prison, then Carlo can work on avenging his brother, either personally or through connections on the inside. Realizing that's exactly what's happening when he sees a changing of prison guards outside Rocco's funeral, Michael rushes back in time to persuade the warden to isolate them from each other. But it's not enough to keep the wheels from turning.
And so now, realizing that the Baxters have "the juice" to kill him inside or outside prison, Kofi ends the episode by walking straight into the lion's den and introducing himself to Carlo. Kofi now understands that he cannot quietly do the time like a good soldier if he expects to live, which presents a huge problem for the owners of the beat-up blue Volvo he was asked to steal. Michael is going to have to break extremely bad to stop a possible Kofi confession from getting back to him. Either that or Carlo's racism will deafen him toward whatever Kofi has to say.
Cover-up status: astoundingly bad.
Beignets:
• The Leonard Cohen song played repeatedly at the bar is "Treaty" from You Want It Darker, the last album released while he was alive. The lyrics of the song, suggestive of the bitter aftermath of a breakup ("I'm so sorry for that ghost I made you be/ Only one of us was real and that was me"), nicely underscore the story Michael is trying to sell to the gas-station attendant. Makes for a pretty mirthless bar, though.
• What the hell was that sequence with Adam dancing to "Love Will Tear Us Apart"? Not that a person his age wouldn't or shouldn't flail around to such a classic song, but the weird use of slow motion and effects was an odd jolt from a show that's pretty down-the-middle stylistically.
• Tiny Breaking Bad connection: In explaining to Frannie how Adam bruised his shoulder, Michael said the two of them were wrestling, which he says was "stupid, I know." The phrase is a Walter White-ism, used during the scene where he explains to his wife and son why the entire house is soaked in gasoline.