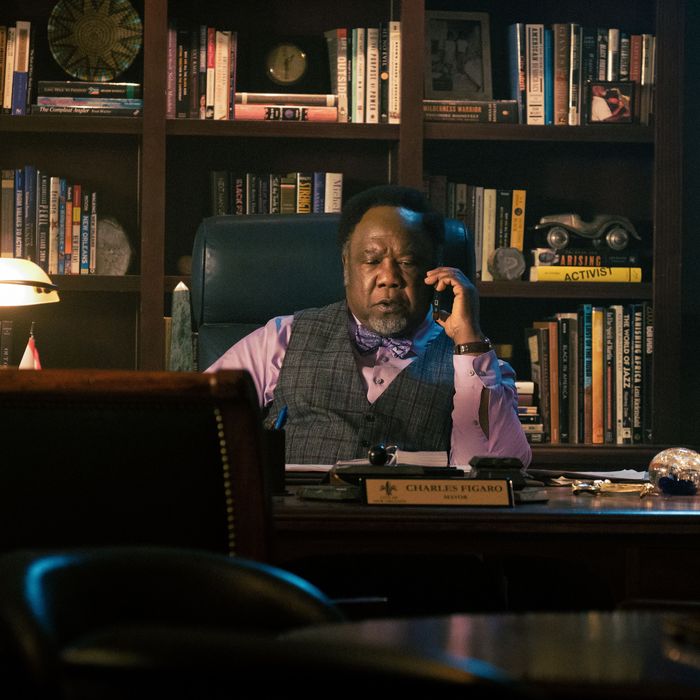 Photo: Vulture; Photo: Andrew Cooper/SHOWTIME
Last week's cliffhanger ending planted two assumptions in viewers' heads—or at least this viewer's head: 1. Eugene Jones was shot dead by a Baxter-connected cop at a bus depot while trying to flee New Orleans. 2. That cop was named Walter Beckwith.
Well, it turns out neither of those assumptions were true. Eugene Jones may have been shot at close range in the chest, with the exit wound splattering blood on the side of the bus, but it wasn't fatal. In fact, it was so not-fatal that he simply left the depot on his own, without any intervention from the people in this very public place. (The show perhaps wisely opts against showing how this could have happened. All we need to know is that it did.) And while the trigger man is indeed a corrupt cop we'll learn later is named Rudy Cunningham, Your Honor stages an effective stinger by having the actual Officer Beckwith pull Michael over for speeding on his way to tell Nancy about Beckwith's involvement in Robin's murder. The first switcheroo feels like a midrange cheat, given the extreme improbability of Eugene surviving the bullet and leaving the scene; the second is a more satisfying piece of misdirection, because it raises the stakes for Michael way beyond a ticket and it points to broader web of corruption within the police department.
The plot machine is now roaring like crazy for these final few episodes, but to give Your Honor some credit, there's a strong effort to cast the events of the first season in a new context. The show has lost the compelling thematic force of a good and respected judge going morally astray, so it has had to shift into a more general tale of municipal corruption, tying the sins of rival criminal organizations within New Orleans to bad actors in the police department and mayor's office. Now, the fateful collision between Rocco Baxter and Adam Desiato is a mere nibble of a much larger and more powdery beignet. There were longstanding and sinister forces at play long before the accident and now those forces are starting to be revealed.
Much of "Part Seventeen" is devoted to bringing the relative good guys together for a final stand—or, more simply, for protection. As Eugene stumbles away from the bus depot, he's smart enough to realize that he can't walk into the nearest emergency room with a gunshot wound, because the staff is required to report such a wound to the police, which would endanger him further. So he turns instead a character we haven't seen since the first season, Lee Delamere (Carmen Ejogo), a lawyer who once represented his brother Kofi (and was also Michael's protégé with benefits). She calls the only friend she knows who's a doctor, which leads to perhaps the closest Your Honor has ever gotten to a laugh-out-loud line: "That's a gunshot wound and I'm an OB/GYN."
When Lee and her friend are forced to admit Eugene to the hospital to keep him from bleeding out, Lee persuades the nurse to call in a gunshot wound for a middle-aged Hispanic "John Doe," but that only buys them time. It also buys the show time to put a few pieces together about Robin's murder and the men responsible for it. Beckwith is the most openly monstrous of the two, and he takes special pleasure in going full Talking Killer on Michael as he prepares to execute him. He shares the bitterness of rank-and-file officers who saw their collars freed in his "bleeding heart" courtroom and he wants Michael to know that he pulled the trigger on Robin. But that's the fatal flaw with Talking Killer types: They talk too much to kill. Here, Nancy comes to the rescue, using a tracker on Michael's phone to find them and clip Beckwith before he can engineer a fake suicide.
The other bad cop, Rudy, is frantically searching for Eugene so he can finish the hit job, yet he's less of an obvious sociopath than Beckwith, if only because his corruption is reframed as a slow, years-long downward slide. The connection between Rudy and Charlie is the shocker of the episode, connecting Michael's best friend with his wife's murder. But even that is rooted in political favors. Rudy was Charlie's "guy," the cop he could rely on to do a little dirty work—like, say, "taking care" of a car involved in a hit-and-run accident. It was Michael's privilege at the time to know Charlie would handle the car problem without him having to know how. And so as painful as these revelations might be for him, Michael should also feel part of the same system that killed his wife. That's the sort of meaningful plotting that the show has often lacked this season.
Amidst all this turmoil, Jimmy Baxter is feeling improbably great. Beating the hell out of the family's chief enforcer has invigorated him, not least because it bothers his wife, who's upset he didn't consult her before firing him. (In this field, apparently a knuckle sandwich doubles as severance pay.) He also opts not to roll over to the Calabris on the Baxter District project, offering them his ports during the construction period only, which secures his financing while also clearing a path toward legitimacy. Even the panic over Fia bailing on the family—she leaves behind the baptism outfit as a message—doesn't give Jimmy much pause. Without their money and support, she's just a single mom without a high school degree, so she'll have to return to the fold eventually.
What Jimmy doesn't realize is that Fia's relationship with Adam has given her a second family now, and the episode ends with her on Michael's doorstep, like an orphaned puppy soaked by rainwater. Having just escaped execution from a deranged cop, Michael has once again put himself in the line of fire.
Beignets:
• Speaking of forces realigning, it turns out that Chris, one of Big Mo's lieutenants, isn't that happy about her fentanyl-laced product killing his teenage brother. Big Mo gets a cool reception at the wake, despite her offer to cover funeral expenses. ("So the money that killed my brother is supposed to bury him now?") And with the now-disgruntled Little Mo turning up to pay his respects, it appears that she's about to have trouble from more than just the Baxters.
• Lots of connections this season between this series and The Godfather. This week, protecting Eugene in the hospital after a failed hit job is exactly what happens when Don Vito Corleone is shot but not killed in a public market and needs to be shielded from assassins looking to finish him off. His son Michael's success in outwitting his adversaries is a big part of his eventual ascendency to his father's role.
• "If you look at who is in your life, you may find that you do belong some place, even if it's not the place you've always been." Thank you, cool priest.
• The director of this episode (and the next) is Carrie Preston, who fans of The Good Wife and The Good Fight will recognize as Elsbeth Tascioni, a seemingly flighty but devastatingly shrewd attorney who could occasionally sweep through both shows to great effect. She acquits herself well behind the camera.