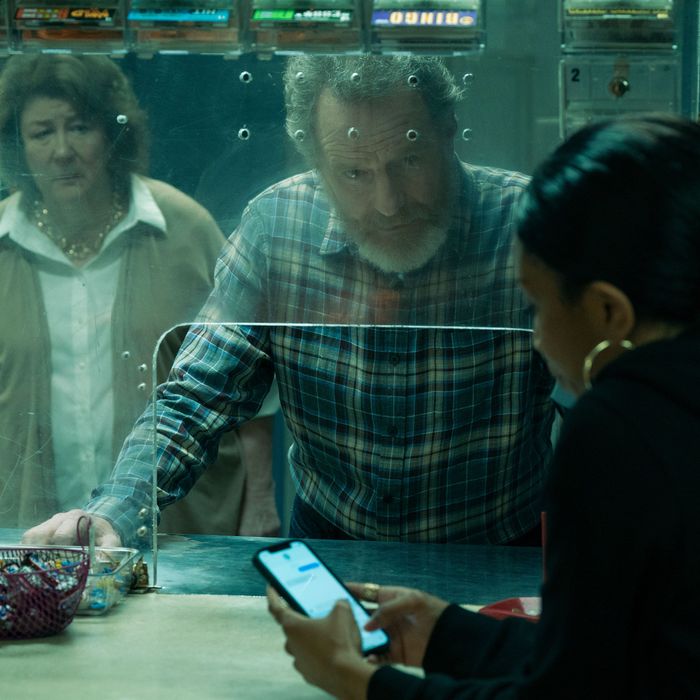 Photo: Vulture; Photo: Skip Bolen/SHOWTIME
We are now in the back half of the second and final season of Your Honor, and it's becoming safer to say that the show hasn't solved its identity crisis — it is now mostly a potboiler, disconnected from the themes of justice and morality that animated its earliest episodes. The best thing to say about an episode like "Part Sixteen" is that it's an action-packed, incident-filled hour of gangsterism and family melodrama with a shocking cliffhanger ending. But it still feels like a show that's adding intrigue for the sake of it, escalating the bloody war between the Baxters' and Desire's operations while slowly chipping away at Michael Desiato's redemption. These threads do finally come together in a final scene, but it's taken hours of wheel spinning to get there.
Let's start with a requiem for poor, dumb Joey Maldini, who was trying to get back in Carlo's good graces after agreeing to testify against him in the Kofi murder trial last season. Played by Chet Hanks, Joey emerges in this episode as an unpaid spy for the Baxter family, checking out Desire's operations to get back into favor with Carlo, who was once his would-be partner on a drug operation. Much like Vito Corleone in The Godfather, Jimmy Baxter wants nothing to do with the drug business — and, in fact, pushes hard against an offer that would traffic them through his port operation — but his boy has no such limits on his venality. When Joey attempts to buy a heroin balloon from one of Big Mo's corner dealers, he's surprised to find it unavailable. After investigating further, he discovers Eugene hiding out in a space where Desire's people are cutting product laced with fentanyl.
What happens next is the sort of clown show that impulsive, dim-witted thugs like Carlo and Joey tend to perpetuate. While Carlo is off trying to play Mr. Mom to Fia's baby — an assignment he immediately blows by placing a booty call to the hotel concierge he was told not to see — Joey calls him outside the hotel with this urgent information about Eugene. One punch to the jaw later, Carlo has settled his beef with Joey, and the two are off to kill a boy they thought was already dead. The show oddly doesn't account for how the mess that unfolds actually happens: Carlo has instructed Joey to follow a car carrying Eugene until he finds the right opportunity to pull the trigger. Instead, the two cars collide, with Joey dead instantly from flying through the windshield and all other parties wounded but alive. This sets up a dramatic moment when Eugene. When given a chance to avenge two separate incidents that have wiped out his entire family, he opts against killing Carlo. He's a good kid, and he won't answer violence with more violence, despite the fact that Carlo is doing anything but begging for forgiveness and mercy.
Meanwhile, Your Honor works toward tying together new business and old business, with the old business happening before the first season even started. Lest we forget, Michael was mourning his wife Robin's murder before he mourned his son's murder, too. At the end of the last week's episode, Nancy brought him into the police station in cuffs for questioning after it had been revealed to her that Michael wasn't at home on the night of his wife's death, as he had told the police. Based on a tip from another arrest, Nancy has found footage of him from around 10:30 confronting the man with whom his wife had been having an affair, who also happened to be a fellow journalist. When Michael and his mother-in-law Elizabeth — welcome back, Margo Martindale! — pay the man a visit in the sticks, he tells them that Nancy was poking around a story about targeted executions on drug lieutenants. Nancy had worked a source named KJ, who supported her theory that dirty cops were responsible for the killings.
It takes more pressing from Michael and Elizabeth to find KJ and get to the bottom of who killed Robin, but they eventually get a name, and the show shrewdly connects the dots. At the beginning of the series, Michael's original sin was to take steps to shield his son from accountability for the hit-and-run because he realized the victim was a member of the Baxter family. But now we can see that the Baxters were a hidden menace in his life before he even realized it. They have dirty cops on their rolls, and one of those cops, named Det. Walter Beckwith, had likely shot Michael's wife to cover up his involvement in the executions. And presumably, he's the man tying up another loose end by putting a bullet into Eugene at Jimmy's behest in the final shot.
If Eugene indeed ends up in the grave he's envisioned for himself in his sketchbook, he would be the last member of his family to get murdered — now in three separate incidents, all connected to the Baxters. And incredibly, Jimmy doesn't seem to be getting any of the credit for it within his own family. What does a notorious kingpin have to do to convince people he's not a weak pretend-businessman who hates to get his hands dirty? Again and again, Jimmy has tried to persuade his wife and his father-in-law that he has long-term plans in the works for securing the crooked waterfront deal, exacting more vengeance for his son's death, and settling his longstanding beef with Big Mo's operation. But the Baxters, including his father-in-law, are a whole family of Carlos — short-term thinkers and hotheads who will always wake up and choose violence. Jimmy is fine with violence, but he has his own timeline.
The remaining wild card in the deck here is Fia, who'd been edging tentatively back into the family until Carlo left her infant with a stranger in order to kill a child. The show has been playing awfully loose about her naivety (or deep denial) about the family business, because this surely isn't the first time she's been exposed to her brother's sinister side or been present for incriminating conversations. She's going to have to make some choices, lest little Rocco's baptism turns into another Godfather moment. And Michael, whose grandchild is the only family he has left, has no choice but to enter back into the fray. If nothing else, the back half of the season will work up a serious New Orleans tempest.
Beignets
• "Duck you." Who hasn't had their words mangled by autocorrect prudishness?
• The Yelp reviews of Big Mo's Heroin Shoppe have to be scathing: Either you get the weakest high of your life, or you die of a fentanyl overdose.
• "You look cute right now, but this is going to be boring as fuck." One of the consequences of Your Honor as an unrelenting plot machine is that we don't get any more of Carlo's adventures in babysitting.
• Juicy monologue from Carmine likening Jimmy's reluctance to get his hands dirty with a kid from Carmine's childhood who wanted to get the spoils of a shoplifting scheme without actually doing any of it himself. It's a point so fair that Jimmy beats up his own chief good to make himself seem more powerful.
• Fia flirting with a cool young priest? She's a baked ziti away from becoming Carmela Soprano.