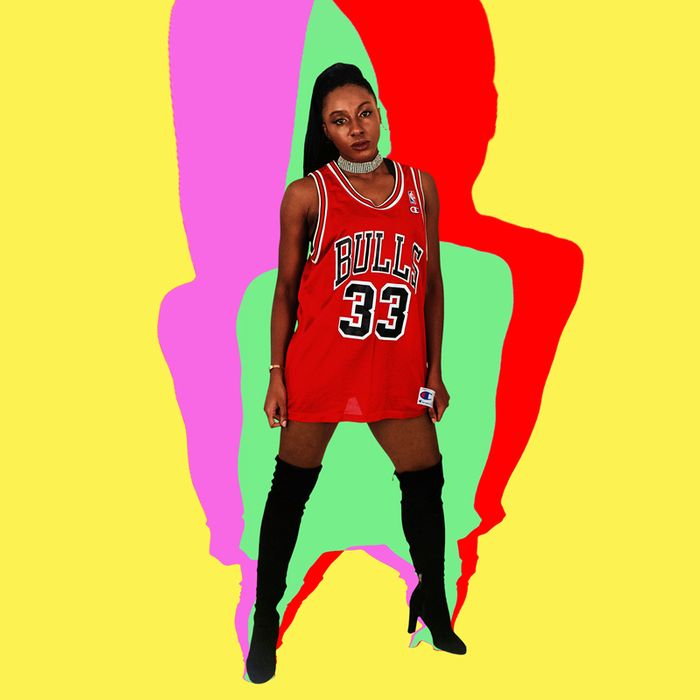 Ziwe Fumudoh.
Photo-Illustration: Vulture and Photo courtesy of comedian
This week, we're highlighting 20 talented writers and performers for Vulture's annual "Comedians You Should and Will Know." Our goal with the list is to introduce a wider audience to the talent that has the comedy community and industry buzzing. (You can read more about the methodology at the link above.) This year, for the first time, we also asked the comedians on the list to answer a series of questions about their work and comedy under quarantine. Next up is Ziwe Fumudoh.
When did you feel that you were funny enough to make a legitimate go at comedy?
When I realized I didn't want to do the amount of reading required to be a lawyer. Maybe six months after that I got a joke on The Colbert Report as an intern.
Describe your comedy in five words.
My comedy is iconic, folks.
If you weren't a comedian, what would you be doing?
Pop star or a civil-rights lawyer. At one point I wanted to go to law school and get a dual degree in African American studies.
What of your work do you think you're best known for?
Probably interviews. But my tweets have been shared all over the internet since 2012.
What's some of your work that you're most proud of?
I'm proud of my collection of work. Each facet of my art is an extension of my self-expression, and I am lucky that I get to create a wide range.
How has quarantine affected the way you approach your comedy and your audience?
Quarantine has made me extremely online, which is a throwback to my childhood when I was glued to my Windows 95.
What have you done in quarantine for comedy that you thought you would never do?
I never thought I would be someone that used Instagram Live. Twitter was always my domain because it centered my thoughts and jokes without any acknowledgement of my external aesthetic. But, things change.
Who are some of your favorite comedians right now? Who is putting out work that excites and inspires you?
Janelle James, Raina, Yassir Lester, Lauren Ashley Smith, Patti Harrison, Dan Perlman, Grace Kuhlenschmidt, Rachel Sennott, Ayo Edebiri.
I will watch anything that Will Tracy or David Caspe writes. They are amazing writers.
Larry Owens needs to drop a musical-comedy album. He was a staple of New York live shows and I miss seeing him perform.
Every week, I look forward to the podcast Bitch Sesh by Casey Wilson and Danielle Schneider. It is one of the few things that bring me joy.
Desus and Mero have been inspiring me since 2015. When I was on jobs I hated, I used to pretend to work and watch their show on incognito mode. I'd crack up and my boss would ask what was so funny and I'd be like … "Spreadsheets …" They really inspired me to be proud of where I'm from.
What is the best comedy advice, and then the worst comedy advice, you've ever received, either when you were starting out or more recently?
The worst comedy advice I ever received was when I was starting out in Chicago, my favorite city in the country because it's the only place my skin is clear. On multiple occasions, I was advised to make my comedic voice more like a straight white guy … which I am not.
I once had an improv teacher at iO in Chicago make me cry because he said I asked too many questions and had "unnatural reactions." It's ironic because that's what I'm known for.
The best comedy advice I ever got was from Aasif Mandvi when I was maybe 20 years old interning at Comedy Central. He told me to be myself, create as much as possible, and not take a gatekeeper's "no" for an answer.
Also my poetry teacher in college, Rachel Webster, once told me that no one would take me seriously if I couldn't write. Shout-out to her.
Tell us one story from your childhood that is a good representation of your life.
When I was a child I once ate so much tapioca pudding that I made myself lactose intolerant for years. When I set my heart on something, I commit.
Assuming quarantine ends at some point, is there anything about the way that comedy or the industry in general has changed that you hope continues post-quarantine?
I hope that people continue to fight for Black and brown lives. Liberation is not a trend. It's a lifestyle, honey.