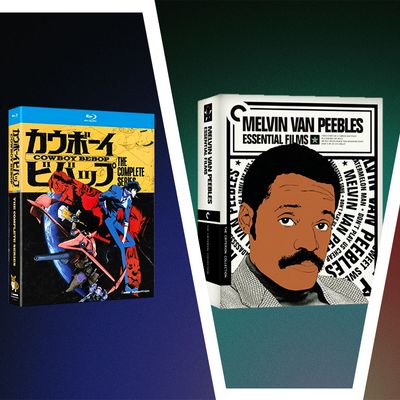 Photo-Illustration: Vulture
While 2021 was an improvement over 2020 for a lot of people (thanks vaccinations!), the truth is that a lot of us still aren't leaving our houses. While we're stuck at home, why not spend some time with the best Blu-ray releases of the year, including incredible box sets, the best of Criterion, a few 4K upgrades, and even some animated collector's editions? It's been a weird year, and it's certainly weird on the physical media market, too, as there were fewer exciting new releases this year than ever, given the relative calm of the entertainment world — when so many movies are pushed back, it obviously impacts home releases. But we have dug deep to find the best of the year, a.k.a. the ones to get your friends early before they sell out. Pick your favorites!
The Criterion Box Sets
For the first time ever, Criterion has assembled the most essential films in the career of one of the best filmmakers of the modern era, Wong Kar-wai — including three films that had never been on Blu-ray before and new, director-approved transfers of all seven films. The 4K restorations include Chungking Express, Fallen Angels, Happy Together, In the Mood for Love, 2046, As Tears Go By, and Days of Being Wild. Wong's films regularly feel like they are in conversation with each other, as the filmmaker revisits themes (and sometimes even characters) from one to another, making them a perfect filmography for a box set. Gorgeously packaged, this must-own for cinephiles also includes new behind-the-scenes materials, making-of documentaries, archival interviews, and even short films from Wong, including an extended version of The Hand that had never been available Stateside before. Some of the restorations here were a little controversial, but they are undeniably Wong's vision, and this is a set that even his most casual fans have to own.
We lost the godfather of Black Cinema earlier this year, around the same time that Criterion was finally giving him the physical-media pedestal that his career deserved all along. Few people in the history of independent film have made the kind of impact that Van Peebles did with a relatively small number of films. In fact, this set only includes four works by the senior Van Peebles (along with the wonderful Baadassss! by his son Mario Van Peebles), but they're all so essential to the history of American filmmaking: The Story of a Three Day Pass, Watermelon Man, Don't Play Us Cheap, and his most famous film, Sweet Sweetback's Baadassss Song. All four films were restored and approved by Melvin Van Peebles, and the gorgeously packaged box set also includes new conversations with Mario and film critic Elvis Mitchell, producers, and scholars. And that's not it — there are documentaries and featurettes about Van Peebles, along with archival interviews from throughout his career, and three early short films. The man himself even introduces each of his works. He will truly be missed, but it feels like his influence isn't going anywhere.
Fans of Hong Kong cinema should have one box set on their list, this six-disc release of one of the most popular series of films of the 1990s around the world. The movies that made Jet Li a star, the Once Upon a Time in China series bring China of the late-19th century to life with vivid period detail and mesmerizing action sequences. These films not only elevated Jet Li to an international audience but the great Hong Kong New Wave auteur Tsui Hark. It starts with the 4K restoration of 1991's Once Upon a Time in China, the first collaboration between Hark and Li, a gorgeous blend of modern action filmmaking and classic Chinese culture. Four sequels would follow — the first two have also been restored here in 4K, the final two in 2K, all presented with original Cantonese sound mixes. Even Sammo Hung's Once Upon a Time in China and America from 1997 is included in the set, which is loaded with special features like deleted scenes, behind-the-scenes footage, archival interviews, and a new interview with Tsui Hark.
4K Remasters
Again??!?! Yes, the Michael Myers movies have been released in special, collector's, and ultimate editions more than any other horror franchise, but this is the first time that the John Carpenter 1978 classic has been released in 4K. Clearly timed to capitalize on the release of Halloween Kills, Shout Factory actually dropped the first five films in the franchise in stand-alone 4K releases, all scanned from the original negative and approved by the cinematographer on the first three films, Dean Cundey. They also include new Dolby Atmos Tracks, along with tons of previously available supplemental material (fans could spend hours in the bonus material on these releases alone). 4K collectors are comfortable with buying films they already own as long as the video and audio are better than their current edition, and that's certainly the case with the 2021 editions of the Halloween franchise. Let's just hope they don't try it again next year.
Finally! The Criterion Collection released its first series of 4K editions in November 2021, making 4K options a regular part of its monthly offerings from that point forward. The titles announced so far include a mix of new releases to Criterion (Uncut Gems, for example) and remastered versions of some of their greatest hits. Why not start with David Lynch? The auteur's 2001 masterpiece has received a new 4K digital restoration that was overseen by Lynch himself and director of photography Peter Deming, with 5.1 surround DTS-HD Master Audio soundtrack. The 4K releases will also include standard Blu-rays in the same volume for those who have yet to upgrade their home theaters, and, of course, all previously available supplemental material, which includes interviews, on-set footage, and a deleted scene from Mulholland Dr.
It's about time Indy joined the 4K revolution. One of the most iconic characters of all time did exactly that in June 2021 when Steven Spielberg's four films about him were finally released on 4K UHD. While the world awaits a fifth film in the franchise, revisit Raiders of the Lost Ark, The Temple of Doom, The Last Crusade, and The Kingdom of the Crystal Skull (if you want) with gloriously remastered editions in HDR-10 with Dolby Vision. The video quality has never been better on these films. It's the first time that they've been available in this format, and the Dolby Atmos audio tracks are the most impressive yet for these oft-released classics. To add to the deal, Paramount includes a stand-alone special feature disc with seven hours of material, a fold-out map, and beautiful package design.
Box Sets
Remember Legend? Tom Cruise was barely a star when Ridley Scott's divisive fantasy epic was released way back in 1985. The wonderful people at Arrow have given this cult classic lavish treatment in a beautiful multi-disc package that allows fans to really see this film for the first time. And that's somewhat literal because this edition includes several cuts of the film that emerged over an insane postproduction that forced Scott and his team to nip and tuck at the entire film. Finally available here, the director's cut of Legend is a much richer experience, although fans of the original may miss the Tangerine Dream score (replaced here by a lush composition from the great Jerry Goldsmith). Don't worry, this set includes every possible iteration of the film, including a 2K restoration of the theatrical cut with brand-new commentary by a Scott expert and even an analysis of a third cut of the movie from overseas. As with everything Arrow, it's loaded with special features, including new featurettes, deleted scenes, and old commentary by Scott himself.
Every franchise has a fan base. Find the one on your holiday list who is into vampires, lycans, and beautiful people wearing leather, and pick up this limited-edition gift set from Sony. It includes fully remastered 4K UHD editions of all five films in this franchise: 2003's Underworld, 2006's Underworld: Evolution, 2009's Underworld: Rise of the Lycans, 2012's Underworld: Awakening, and 2016's Underworld: Blood Wars. All five films include HDR transfers and Dolby Atmos audio mixes, and the first film includes an extended edition with the full 4K treatment. The package also comes with hours of previously unavailable special features, along with rare featurettes that hadn't been put on disc before.
They can't all be modern blockbusters, right? Maybe there's someone on your holiday shopping list who's into classics? Pick up this previously available box set that was remastered in HD in 2021 for the first time. It's one of the best possible gifts for classic movie fans as it includes four of the most iconic movie monsters of all time: 1931's Dracula, 1931's Frankenstein, 1933's The Invisible Man, and 1941's The Wolfman. The set also includes the Spanish version of Dracula (which is really a different film that was shot simultaneously), along with featurettes about the legendary stars whose careers would be defined by these parts, including Bela Lugosi, Boris Karloff, Lon Chaney Jr., and Claude Raines.
Ash is back, baby! The average dude who faced down the forces of evil has been given a "groovy" collection from Warner Bros this November that remasters two of the Sam Raimi classic films and the entire run of Bruce Campbell's Starz TV series in 4K. Yes, you can watch The Evil Dead, Evil Dead 2, and Ash vs. Evil Dead: Seasons 1-3 in one beautifully packaged release. Sadly, there's no Army of Darkness in this set (there's nothing eviler than rights issues), but fans of this series probably own that already and can fill out the marathon this holiday season.
Animation
One of the biggest Netflix Original Series of the season is the long-awaited live-action adaptation of Cowboy Bebop, a truly beloved animated series from 1998. Cowboy Bebop originally ran in Japan for only 26 episodes in the late '90s, but it became hugely popular in North America when Adult Swim reran it, starting in 2001. This full series set compiles every episode in HD and includes the Japanese and North American extras that were previously unavailable. It's been on the market since 2014, but the timing is right to add it to your holiday shopping list, given what the John Cho–led Netflix series is going to do for its already massive fan base.
GKIDS has released this beloved anime series in an affordable complete series release (as well as a massive, sold-out Ultimate Edition set to land in December). This five-disc set includes all episodes of Neon Genesis Evangelion, along with the films Evangelion: Death (True) 2 and The End of Evangelion, all with Japanese and English audio tracks. Of course, any complete series demands supplemental material, and this set comes with over five hours of special features, including animatics, TV commercials, music videos, and more. This is the first time that one of the most iconic anime series of all time has been available on Blu-ray in North America. It's a major event for fans of this universe.
The first four films by the master animators of LAIKA have been released in 2021 collector edition Blu-rays at low price points with digital copies and new special features. LAIKA doesn't get the press of a studio like Pixar, but it has a perfect batting average, and all four of these films — Coraline, ParaNorman, The Boxtrolls, and Kubo and the Two Strings — are worth adding to any movie fan's collection. Each release comes in new packaging with all previously available special features joined by new material, including never-before-seen test footage on Coraline, new character arts, and mini-documentaries like "Revisiting the Puppets with LAIKA's Animation Team."
Blockbusters
It's all about family. The ninth film in the franchise that somehow turned a story of drag-racing criminals into a series bigger than Bond was supposed to hit theaters right at the start of the pandemic in 2020, but it was delayed for over a year. When it finally drove into theaters, it became a cultural event the moment that everyone was waiting for to return to the movies. Now, fans of Dom, Letty, Roman, and the rest of the Fast gang can own F9 on Blu-ray and DVD with an impressive home release that also includes a director's cut of the Justin Lin film. Like a lot of modern blockbusters, it's loaded with special features, including a gag reel, an audio commentary by Lin, and, of course, a featurette called "Justice for Han."
The Marvel Cinematic Universe was put on hold when the entire planet was forced to lockdown because of COVID-19. When it emerged, it released four films in relatively rapid succession, dropping Black Widow, Shang-Chi and the Ten Rings, The Eternals, and Spider-Man: No Way Home. The first of the current wave of the MCU is already out on Blu-ray and few studios are better than this kind of blockbuster special edition than Disney. Sure, they'd prefer it if you watched it on Disney+, but they also recognize that Disney and Marvel fans are collectors, so they provide beautiful transfers on their Blu-rays and 4Ks, and they load them up with special features. Black Widow includes bloopers, featurettes, and, perhaps most interesting to hard-core MCU fans, a bunch of deleted scenes (nine in total).
That was fast! The massive hit sequel to Venom hit theaters in early October and will be out on Blu-ray in plenty of time to land under Christmas trees. Is this the new window from theatrical to home release, even for the biggest films? Maybe. Take advantage of it and pick up this twisted brom-com from director Andy Serkis, a man who knows a thing or two about how to turn a CGI creature like Venom into something with its own personality. He directs Tom Hardy and his special-effects team like a Looney Tunes cartoonist, making a blockbuster that feels like none other. Special features haven't been announced yet but expect them to be as fun as the movie (the last film came with a Pop-Up Video–inspired function called "Venom Mode" that will hopefully return.)
Television
Fans of Mike Flanagan's Haunting series have probably already watched this multiple times on Netflix, but they haven't fully experienced Bly Manor unless they have the physical Blu-ray release that came out in October. Just as they did with The Haunting of Hill House, the studio has recognized that horror fans are collectors, and want to unpack every aspect of a show like The Haunting of Bly Manor. And so this comes with special features that fans can't get on Netflix, including "Home for the Haunted: The Ghosts of Bly Manor," "Welcome to Bly Manor," and audio commentaries by Flanagan, directors Liam Gavin and Axelle Carolyn.
Who's got some time to kill? Like a lot of time to kill? Supernatural ran for an amazing 15 seasons, only ending in late 2020, leading to the inevitable complete series DVD and Blu-ray releases this year. They're massive (58 Blu-ray discs!) and they're expensive, but fans of this show are rabid, the kind of people who would love to display their affection for Sam and Dean on their Blu-ray shelf. It's also one of those comprehensive sets that's about way more than just the episodes, including hours of special features, some of which are exclusive to this set and have not been a part of previous season releases of the show. There's even an interactive featurette called Supernatural Creature Fest Drive-In. Sounds scary.