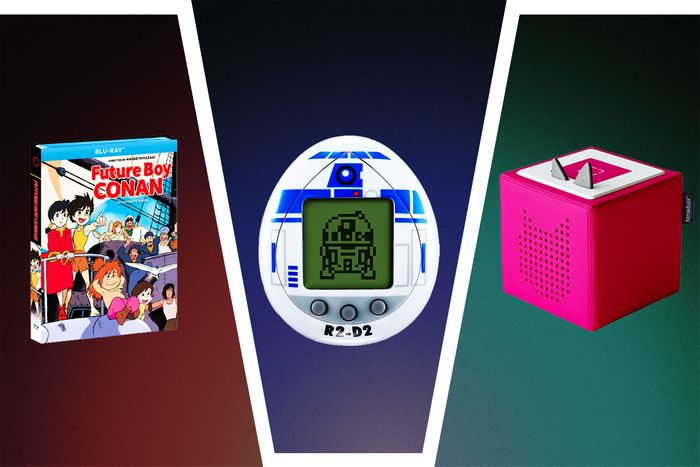 Photo-Illustration: Vulture
When it comes to gifts for kids, they can often fall into one of two categories: boring (to the kids) or annoying (to the adults). All those flashing lights and repetitive noises are cute for about a maximum of four hours. These are our recommendations for kids gifts that hopefully won't drive you crazy by Boxing Day. With some nostalgic throwbacks and beloved classics in the mix, who knows, you might even have fun with them, too.
I can find no consensus on what this toy is actually called. At Amazon it's "PAW Patrol, Marshall's Transforming Movie City Fire Truck." Target goes with, "PAW Patrol: The Movie Marshall Transforming City Fire Truck." Walmart has its own permutation: "PAW Patrol, Marshall Movie Transforming City Fire Truck," while Bed Bath & Beyond shows its respect for trademark law: "PAW Patrol® Transforming Movie City Fire Truck." And Macy's, which I thought had basically gone out of business, is clearly keeping things lean in both its corporate operations and its toy titling philosophy: "PAW Patrol Marshalls Transforming Vehicle."
Whatever the name, this fire truck, released as a tie-in with the mercifully watchable Paw Patrol: The Movie, has been a crowd-pleaser (sons aged 4 and 2) since the moment it came home. It harkens back (indulge me an "in my day" moment) to the toys I grew up with — the Teenage Mutant Ninja Turtle and GI Joe and MASK (seriously stay with me) vehicles and playsets that were cleverly designed, featuring arrays of small features and interactive elements. Was I paying attention to children's toys prior to having my first son four years ago? No. Might toys like this have been available all along? Yes. But this is the first one I've come across since they were born that I found genuinely impressive.
That's attributable to all the different ways the kids can play with it: The thing is huge, with a giant extending ladder that doubles as a slide that Marshall et al. can ride down onto the included trampoline, plus a hidden pop-up cannon that fires balls of "water." The truck drives well and is remarkably durable — a welcome quality, considering most of the toys the boys get these days break within a few drives off the kitchen table. Your mileage may vary on Paw Patrol as an entertainment product, but if you're looking for a toy with high independent play potential and low likelihood of needing replacement, you can do far worse than Marshall's indeterminately named big red engine. —Neil Janowitz
Yes, American Girl dolls can be gamers too! Not only is there now an '80s doll who's a Pac-Man champ and video-game developer, but American Girl also collaborated with Microsoft on a doll-size Xbox. Originally released in 2018, this updated version includes an Xbox Series X and accessories including snacks, games, and a headset — everything the modern gamer girl needs. (Sure, that circle chair is giving major mid-2000s Limited Too vibes, but anachronisms are par for the course with American Girl dolls.) —Emily Palmer Heller
There are plenty of nice case options should you decide to imperil your iPad by entrusting a small child with it. But for my money — and based on my deeply inconsiderate 4-year-old — it's hard to do better than this sheath of sturdy "EVA material" (a substance I can scarcely describe after a couple minutes of Googling, but suffice it to say the case admirably withstands my son's abuses). This is not an elegant, finely designed product. It is a blunt instrument made by some random interchangeable Amazon supplier that is unfailingly effective at doing one job: preventing a child we've nicknamed "Jackhammer" from destroying a piece of expensive technology. The handle is great, too. —NJ
Combining The Secret of Kells, Song of the Sea, and Wolfwalkers into one gorgeously animated package, this new trilogy box set from GKIDS represents some of the most sophisticated work from acclaimed studio Cartoon Saloon. From the age of Vikings, to a tale about faeries and selkies, to a nighttime world of werewolves, each film uses mythology as its springboard for 2-D-animated magic. In doing so, the creative teams led by Tom Moore and his co-directors and producers often draw from art styles pioneered by Celtic artists and artisans who lived hundreds of years ago. As pieces of animation, the trilogy's films have been a striking, vivid alternative to the 3-D CGI from Pixar and Disney, and they've never been collected in a more feature-rich package of behind-the-scenes animatics and materials. —Eric Vilas-Boas
Hayao Miyazaki is best known for delighting youngsters through films like My Neighbor Totoro and Spirited Away, but it was his direction on the Future Boy Conan TV series that paved the way for his movie success. Officially released in North America for the first time this year, the new Blu-ray collection from GKIDS features a new English dub, a 4K restoration, and a 16-page booklet of character art. The show itself stars kids Conan, Lana, and Jimsy, who each have to confront secretive enemies bent on world domination and find their place in a post-apocalyptic world. —EVB
The release of Marvel's Shang-Chi and the Legend of the Ten Rings sparked a vigorous internet debate over which member of Shang-Chi's family is most impressive. And okay, yes, they're all very attractive and powerful. But let's not forget about Morris, the little winged creature who somehow manages to be adorable despite a complete lack of facial features! He's basically all fur, which makes him perfect for any person or pet in need of a snuggly companion. He might look a little unsettling to the uninitiated, but this 8-inch plush will be delightfully cute to anyone who's seen Morris hopping around onscreen. —Jennifer Zhan
We all know the sad truth of most young children's media franchise tie-in picture books: They suck. Yes, kids often love them, and they tend to care more about the fact that it's a Paw Patrol/PJ Masks/Bluey/Marvel superheroes book than whether or not the book is actually a good read. And some of them are decent — most of the Daniel Tiger ones are okay, for instance, even though they're typically word-for-word recreations of the same episode.
And yet somehow, one of the most beloved kids' franchises of the last several years has managed to escape the trap of the deadly boring tie-in book. Many of the Octonauts books are astoundingly charming. The activity books are fine, and some of the vehicle-focused ones are … yeah, if you've read children's truck books, you get it. The story-centric ones, though, are legitimately great, including The Octonauts Explore the Great Big Ocean, The Octonauts and the Growing Goldfish, and The Octonauts and the Great Ghost Reef. They are original stories, not taken from previous episodes, and the illustrations are chockablock full of detail, surprise, and little jokes kids love to find. They're the sort of books your kids will pore over for many repeated readings, and they're well-written enough that you won't start tearing your own hair out until at least read-aloud number 75. —Kathryn VanArendonk
Tamagotchi is back, baby, and this time they're taking advantage of licensing deals. The new R2-D2 Tamagotchi lets you take care of everyone's favorite droid, keeping him charged up and clean, and teaching him new skills. He won't die if he's neglected for too long — but he will get kidnapped by Jawas. The R2-D2 Tamagotchi comes in two colors — white with blue details more reminiscent of R2's framework, and a translucent blue version that I'd call R2-D2 night mode. —EPH
The Man of Steel looks terrific in HD thanks to this new box set pinned to the 25th anniversary of Superman: The Animated Series, made by several of the creators behind Batman: The Animated Series. Because of its star hero's inherently more hopeful personality and cosmic origins, S:TAS was brighter, more futuristic, and overall more steeped in science-fiction than its brooding predecessor, but it was no less sophisticated. Bruce Timm & Co.'s designs are still inspired by Art Deco and often spun directly from comic lore that's both iconic and obscure. If you only watch a few episodes with your little ones, we'd suggest the ones that reverently adapt Jack Kirby's "Fourth World." —EVB
If there is a kid between 3 and 9-ish in your life, this thing is my number-one-with-a-bullet recommendation. Technically you could do everything this system does on your phone: It's a Bluetooth speaker audio player for kids, and there's no reason you can't just open up the Moana soundtrack on your home speaker whenever your kid asks. But the genius of the Toniebox is that even very young children can control the whole thing themselves, starting and stopping whatever music or story they like by putting the magnetic figures on top of the speaker. It's true that the box is not cheap, but the individual figures that connect to it magnetically are a more reasonable $15 each, and they make great birthday/holiday presents from grandparents. (Tonie has also been rolling out new figures pretty regularly over the last year, so the library is primed to grow.) The real hack of it, though, is the blank Tonie figure that comes with the box. It's very easy to upload any mp3 you want onto the figure using the browser interface, which means that you can rotate an endless supply of music or kids' podcasts onto the Tonie.
It's worth noting that there's also a competitor called the Yoto Player, which has a fairly similar conceit and an even wider library of playable stories that kids can control via cards. Younger kids are likely to be drawn to the toy-like Tonies; older kids might appreciate the Yoto's broader selection. —KVA
One of the challenges of parenting is that you remember what books were great when you were little, but you have no idea which of the thousands of age-appropriate books from the last two decades or so are the titles destined to become modern classics. You know Ramona is a banger. Your mom read you Little House on the Prairie. Maybe you remember The All-of-a-Kind Family, or Eva Ibbotson books, or The Lion, the Witch and the Wardrobe.
It's worth updating your catalogue, and Emily Jenkins's Toys Go Out books should be at the top of the list. (You may know Jenkins by her other publishing name, E. Lockhart.) Toys Go Out starts with a fairly familiar premise for any Pixar fan: They are books about sentient toys who have adventures and probe the existential nature of their lives whenever the humans aren't looking. But the heroes of Toys Go Out are gorgeous, unique creations unto themselves. There's the often-anxious stuffed buffalo Lumphy, a know-it-all girly plush Stingray, and the easygoing but quietly insightful Plastic, whose specific nature is a bit of a mystery. They are incredible books, tender and hilarious and striking in that simple but devastating way that children's fiction can do so well. I have read all three Toys Go Out books aloud to my kids several times, and I absolutely lose it by the end every goddamn time. I am considering borrowing other elementary-age children from around the neighborhood so I can keep reading these books out loud forever. —KVA