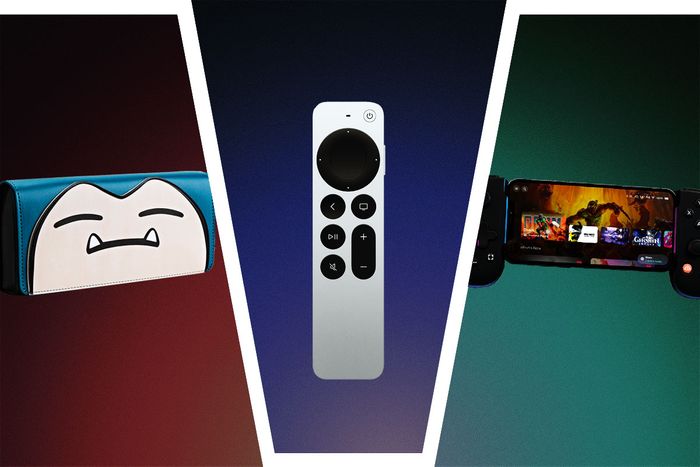 Photo-Illustration: Vulture
New technology is supposed to make our lives simpler, not harder. The wheel rested our weary backs, and fire warmed our frigid toes. The same goes for the Promethean gadgetry of the 21st century. If a TV remote sucks, find a better, smarter, comfier one. If it's a pain to buy a Nintendo Switch, why not wrap a pair of knockoff Joy-Cons around an iPhone and game that way instead? Ultimately, these gadgets should give us the time back that we would have otherwise spent sweating. We've dug through our wish lists to curate our favorite tech gifts this season that are perfect for your home entertainment setup and to soothe your personal well-being.
With its latest model, Roku refined the Streaming Stick into a faster, more powerful, more responsive streaming tool. Its interface is, for my money, neck and neck with the Apple TV's (better on most days, thanks to what I think is a more intuitive app and channel integration). Roku talks a big game about its platform agnosticism, and it often actually bears out: You can see comparative pricing when you use its powerful search tool for films or shows, with HD, HDR, and 4K options laid out before you. Even if you don't spring for the 4K+ and its Voice Remote Pro (which talks to you just like Siri does), Roku's mobile app is easy to use and listens to you just as well. —Eric Vilas-Boas
This year's latest Apple TV 4K model may be more powerful than ever, but the true revelation was the revised Siri Remote — which finally feels less like a generically burnished Apple peripheral and more like, well, a functioning TV remote. You couldn't confidently hold the first one in a dark room and know which way it was pointed. But as we wrote in April, this second-gen device has been dramatically redesigned, clarifying its button placement and adding heft to the package as well as a five-way clickable circle that borrows from the company's great track pads. It's a lot friendlier in your hand than not just the past Apple remotes but its closest plastic competitors at Roku, Amazon, and Google. —EVB
There are plenty of nice case options should you decide to imperil your iPad by entrusting a small child with it. But for my money — and based on my deeply inconsiderate 4-year-old — it's hard to do better than this sheath of sturdy "EVA material" (a substance I can scarcely describe after a couple minutes of Googling, but suffice to say the case admirably withstands my son's abuses). This is not an elegant, finely designed product. It is a blunt instrument made by some random interchangeable Amazon supplier that is unfailingly effective at doing one job: preventing a child we've nicknamed Jackhammer from destroying a piece of expensive technology. The handle is great too. —Neil Janowitz
Yes, this is a game system you can actually buy this season — a serious leg up on its big sister, the Series X, or any of the PlayStation 5 or Nintendo Switch models. But in a lot of ways the Series S is the best option of all. It can stream video in 4K. It can play any game the Series X can play, including backward-compatible library titles. You can bundle it with Xbox All Access for a much better deal than the Series X. And it's $200 cheaper. Put that savings toward a giant hard drive to supplement its storage, or trade it in later and get a Series X for $300. The Series S rules because, unlike the other consoles right now, it gives you options. —EVB
Since getting my Switch Lite, I've barely touched my classic Switch. The Lite is so much easier to hold, plus it's a pretty color (though I do wish I'd held out for the pink version). And while ease of travel hasn't been a big consideration for the past year and half, now that things are slowly opening back up, portability is key.
But this isn't a recommendation for the Switch Lite. Anyone who wants one probably has one at this point, and supply-chain issues are making them sell out at several retailers. No, instead I'm recommending a Switch Lite carrying case. (It'll carry a classic Switch, too.) Specifically, this one, which looks like Snorlax. It's made of artificial leather, rather than the cheap cloth you can sometimes find in console cases; it's got plenty of little pockets for game cartridges; and did I mention it looks like Snorlax? —Emily Heller
Look, most of us probably focus on Netflix and HBO Max these days, but the big benefit of live TV is that it provides structure. Knowing Jeopardy! was on every night in no small way helped my loving partner not murder me when we cohabitated during the pandemic. The cheap way to stay alive, and to watch daytime reruns of Murder, She Wrote without paying a nickel in fees, is to shell out for a cheap HD antenna. You can get a reasonably good one with a broadcast radius of 35-to-40 miles for about $20. The one I have is the circular model from Antennas Direct. Stick it to your TV and let someone else take the wheel for a change. —EVB
The Backbone One is a snap-on controller that flips your smartphone into a more formidable mobile gaming device. It feels great as a controller, and it comes with a few software features — like easy video capture — that are pretty nifty too. But the value proposition for the Backbone One really takes a leap when paired with a subscription cloud-gaming service, which vastly opens up the range of experiences for gaming on the go. (I'm thinking specifically of Xbox Game Pass.) The Nintendo Switch should still be the first choice for handheld gaming for most people, but if you're looking for an even more robust and dynamic library, consider picking this up. Take note, though: The company added support for Android devices just fairly recently, and it still seems a bit clunky. Best to consider this primarily as an iOS accessory for now. —Nicholas Quah
Not the world's catchiest name, but Sony's headphones have been a terrific pair for me, a person who, like many, works from home. I hadn't gotten the appeal of a noise-canceling set until the past two years when my only "co-workers" were my two dogs, whom I love, but yeesh, that barking sometimes is too much. With some quality earmuffs like these Sony WH-1000XM4 headphones — again, not a catchy name — the sound is crystal clear. The set has a long battery life and plays in "360 Reality Audio." I'll be honest and say I don't know exactly what that means, but hearing every single instrument and melody with such precision has been a real treat. The set also has a lot of little quirks (including a nice case) that help
enhance the listening experience, like switching the noise-canceling option to include ambient sounds if you want to be a bit more aware of your surroundings. It also doesn't hurt that they're at their cheapest price ever this holiday season. —Savannah Salazar
For years, I had a DSLR that I'd use to take photos around the world, from the dock of Banff's Lake Louise to the dew-drenched hills of Scotland to the ominous chain on the knife's edge cliff in Utah's Angel's Landing. My DSLR and its lenses weighed me down, but using my phone camera harshed my mellow, even on airplane mode, and I like to look through a viewfinder and click. I needed a camera to keep me loose mentally and physically. Enter one of the best point-and-shoots around. This Lumix has a sensor nearly as big as a consumer DSLR's, meaning its picture quality rules; a world-class Leica lens; four shooting modes, including manual; and 4K video recording. Blissfully, it weighs in at less than a pound. —EVB