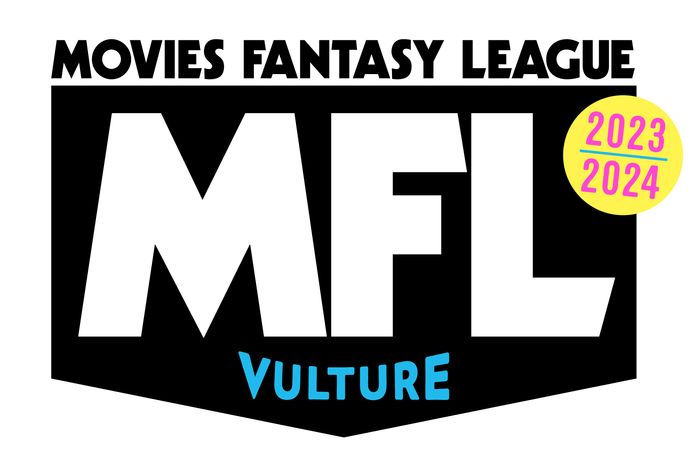 Movies have moved, festivals have been festive(-ish), and now the sun is setting on our drafting window, but there's still a few hours of daylight left for you to select your team. New to the MFL? Here are the essentials:
➼ 1. Pick a team of eight movies that were released in 2023.
➼ 2. Get points based on their box office performance, awards haul, and assorted other categories.
➼ 3. The team that has earned the most points when the game ends after the 2024 Oscars will win one of the great prizes below.
That's it! This year, we've also added the options to play against your friends in mini-leagues, compare your score with Vulture staffers and critics, and we've even invited an array of film podcasters to join a special mini-league, to compete against each other and their listeners. The list of participants includes the hosts of these shows:
Black Men Can't Jump in Hollywood
Eye of the Duck
Filmspotting
Little Gold Men
Next Picture Show
Screen Drafts
Subtitles On
This Had Oscar Buzz
Unspooled
We Hate Movies
Cows in the Field
Film & Whiskey
The game is once again being run by Vulture contributor and co-host of This Had Oscar Buzz Joe Reid, who put together a comprehensive draft kit to help you parse through this year's slate of movie options. Once the league officially kicks off next week, he'll be writing a weekly newsletter that recaps box office performance and parses awards nominations with commentary about what it all means for your team. If you have a penchant for movies, newsletters, or gamification for gamification's sake, this league was created for you. We hope you'll play along.
Gameplay
The window to join the league is now open, and it slams shut at the end of the day on September 28. Points will begin accumulating immediately thereafter. The game will conclude with the 96th Oscars.
The mechanics are simple:
The Films: We made a list of movies from 2023 — some already released, most still to come — and assigned them a dollar value based on how formidable they project to be in the various scoring categories.
Your Roster: You have a budget of $100 in fake dollars to build a team of exactly eight movies. This will be your roster for the game. There is no substituting, even if a movie release gets rescheduled to next year.
Results: Each week starting Wednesday, October 4, the updated leaderboard will be available on this page and in Joe's weekly newsletter. Once the game has concluded, prize winners will be notified within one week of the Oscars. In the event of ties among the prize winners, tiebreaker questions included on the draft ballot will determine the final order.
The Limit: Just one entry per email address, and you can't change your team once it has been submitted.
Mini-Leagues: This year, we've introduced a feature by which you can play against a set of friends in a mini-league. Have everyone in your crew enter the same league name on the ballot when you each register, and then you'll be able to filter the standings to see how everyone in your group is doing.
See the complete Official Rules.
Prizes
Oh look, it's an array of fantastic prizes. Everyone who finishes in the top 12 will receive a digital subscription to New York magazine, plus:
Grand Prizes (1st-3rd Place)
The overall winner will get to select one of the following devices:
➼ Bowers & Wilkins Px7 S2 headphones
➼ A 65" 5-Series TCL Roku TV
➼ A Roku Streambar
Whoever finishes second will get to choose between the remaining two and third place will get the final item. You can't go wrong.
Criterion Channel Subscription (4th-8th Place)
The five finalists who finish just outside the top three will each receive a yearlong Criterion Channel subscription.
Vulture Merch (9th-12th Place)
In case the glory of finishing around the top ten isn't enough, the teams that wind up in spots 9-12 will receive a Vulture tote and pair of socks. What better way to show that you're almost a winner?
Draft Your Team
The deadline to submit a ballot is September 28, 2023. Remember, there are no substitutions or resubmissions once your team is drafted, so pick carefully. Before you draft, check out Joe Reid's draft strategy kit — in addition to invaluable roster-building advice, it contains the full list of movies available to draft and their prices.
Excited to play, but not yet prepared to choose your team? Sign up here to receive reminders to draft before the window closes.
When you're ready, visit our draft page to make your picks.
Questions? Need help? You can email us at moviesleague@vulture.com.
Scoring Categories
Once your roster is selected, you will earn points in three categories:
1. Domestic Box-Office Performance
Movies will only be eligible for box-office points if they are released on or after September 29 (after the draft window closes). Points will be awarded in the following manner (based on Box Office Mojo):
Every $1 million earned: 1 point
Clears $50 million: 20-point bonus
Clears $100 million: 40-point bonus
Reaches No. 1 at the domestic box office: 20 points per week spent at No. 1
Last year, you began accumulating box-office points as soon as you submitted your team. We've done away with that this year. Now there's a single start date: if a movie opens on or after September 29, it's eligible to earn box-office points. If it opened before that date, it's ineligible to earn box-office points. Keep that in mind when you're drafting: those mid-September movies that may still be in theaters when the game begins won't get you a box-office boost.
We've also bumped up the value of box-office performance. This year, for every $1 million a movie brings in, it earns one point. A $4 million indie? Four points. A $250 million blockbuster? Two hundred fifty points. The bonuses for clearing $50 million and $100 million are double what they were last year, and a film being No. 1 at the box office for a given week earns you 20 points now.
2. Critical Performance
Similar to the boosted box office, we've doubled the bounty of points that a movie can earn on its critical reception, giving a little more juice to those indie flicks that may not be rewarded at the box office or by major award bodies. Points will be awarded in the following manner (based on the Rotten Tomatoes "Critics Score"):
0–25 percent: -5 points
26–45 percent: 0 points
46–64 percent: 5 points
65–74 percent: 10 points
75–85 percent: 25 points
86–95 percent: 50 points
96–100 percent: 100 points
Rotten Tomatoes points will be awarded all at once on January 2 and will not be adjusted based on subsequent score fluctuations.
3. Awards
Points will be awarded for both awards nominations and wins. This year we've added the Gotham Awards, which ought to provide a bump for indie movies, as well as points for various Oscar pre-nomination shortlists. This will tend to be a boon for more technically accomplished movies that get shortlisted in categories like sound, visual effects, and makeup, plus documentaries, international features, and the always surprising Best Original Song. See the calendar below for points associated with each event.
Click Here For Awards Calendar and Categories
Gotham Awards Nominations
TBA
Nomination in the following categories: 10 points
➼ Best Screenplay
➼ Breakthrough Director
➼ Breakthrough Performer
➼ Documentary Feature
➼ International Feature
Nomination in the following categories: 15 points
➼ Best Feature
➼ Outstanding Lead Performance
➼ Outstanding Supporting Performance
—
Film Independent Spirit Awards Nominations
TBA 
Nomination in the following categories: 5 points
➼ First Feature
➼ First Screenplay
➼ Documentary Feature
➼ International Feature
➼ Cinematography
➼ Editing
➼ John Cassavetes Award
Nomination in the following categories: 15 points
➼ Best Feature
➼ Best Director
➼ Best Lead Performance
➼ Best Supporting Performance
➼ Best Breakthrough Performance
➼ Best Screenplay
—
Gotham Awards
November 27
Win in the following categories: 15 points
➼ Best Screenplay
➼ Breakthrough Director
➼ Breakthrough Performer
➼ Documentary Feature
➼ International Feature
➼ Special Category (i.e. Ensemble)
Win in the following categories: 25 points
➼ Best Feature
➼ Outstanding Lead Performance
➼ Outstanding Supporting Performance
—
New York Film Critics Circle Awards
TBA
Win for Best Film: 20 points
Win in the following categories: 10 points
➼ Best Director
➼ Best Actor
➼ Best Actress
➼ Best Supporting Actor
➼ Supporting Actress
➼ Best Screenplay
➼ Best Animated Film
➼ Best Cinematography
➼ Best Nonfiction Film
➼ Best Foreign-Language Film
➼ Best First Film
—
National Board of Review Awards
TBA
Win for Best Film: 20 points
Earn a spot on the Top 10 Best Films List: 15 points
Win in the following categories: 10 points
➼ Best Director
➼ Best Actor
➼ Best Actress
➼ Best Supporting Actor
➼ Best Supporting Actress
➼ Best Screenplay
➼ Best Cinematography
➼ Best Editing
➼ Best Production Design
➼ Best Music Score
➼ Best International Film
➼ Best Documentary/Nonfiction Film
➼ Best Animation
➼ Top 5 Foreign Films
➼ Top 5 Documentaries
➼ Top 10 Independent Films
➼ NBR Freedom of Expression
—
Los Angeles Film Critics Association Awards
TBA
Win for Best Film: 20 points
Win in the following categories: 10 points
➼ Best Director
➼ Best Lead Performance
➼ Best Supporting Performance
➼ Best Original Screenplay
➼ Best Adapted Screenplay
➼ Best Animated Feature
➼ Breakthrough Performance
➼ Best Directorial Debut
➼ Best Foreign-Language Film
➼ Best Documentary
➼ Best Ensemble
➼ Outstanding Achievement in Cinematography
—
Golden Globe Awards Nominations
TBA
Nomination for Best Picture (Drama, Musical/Comedy): 20 points
Nomination in the following categories: 15 points
➼ Best Director
➼ Best Actor, Drama
➼ Best Actress, Drama
➼ Best Actor, Musical/Comedy
➼ Best Actress, Musical/Comedy
➼ Best Supporting Actor
➼ Best Supporting Actress
➼ Best Screenplay
➼ Best Foreign Film
➼ Best Animated Feature
➼ Best Score
➼ Best Song
—
Critics' Choice Awards Nominations
December 13
Nomination in the following categories: 15 points
➼ Best Picture
➼ Best Director
➼ Best Actor
➼ Best Actress
➼ Best Supporting Actor
➼ Best Supporting Actress
➼ Best Original Screenplay
➼ Best Adapted Screenplay
Nomination in the following categories: 5 points
➼ Young Actor/Actress
➼ Acting Ensemble
➼ Cinematography
➼ Editing
➼ Costume Design
➼ Production Design
➼ Score
➼ Song
➼ Hair/Makeup
➼ Visual Effects
➼ Animated Feature
➼ Comedy Feature
➼ Foreign-Language Film
—
Oscar Shortlists
December 21
Placement on any Oscar shortlist: 5 points
—
AARP Movies for Grownups Awards Nominations
TBA
Nomination for Best Movie for Grownups: 10 points
Nomination in any other category: 5 points
—
National Society of Film Critics Awards
TBA
Win for Best Picture: 20 points
Win in the following categories: 10 points
➼ Best Director
➼ Best Actor
➼ Best Actress
➼ Best Supporting Actor
➼ Best Supporting Actress
➼ Best Screenplay
➼ Best Cinematography
—
Golden Globe Awards
January 7
Win in Best Picture: 35 points
Win in the following categories: 25 points
➼ Best Director
➼ Best Actor, Drama
➼ Best Actress, Drama
➼ Best Actor, Musical/Comedy
➼ Best Actress, Musical/Comedy
➼ Best Supporting Actor
➼ Best Supporting Actress
➼ Best Screenplay
➼ Best Foreign Film
➼ Best Animated Feature
➼ Best Score
➼ Best Song
—
Screen Actors Guild Awards Nominations
January 10
Nomination in Best Ensemble Cast: 25 points
Nomination in the following categories: 20 points
➼ Best Male Actor
➼ Best Female Actor
➼ Best Supporting Male Actor
➼ Best Supporting Female Actor
Nomination in any other category: 5 points
—
Directors Guild Awards Nominations
TBA
Nomination in any category: 15 points
—
Producers Guild Awards Nominations
January 12 (Documentary nominations December 12)
Nomination in any category: 15 points
—
Critics' Choice Awards
January 14
Win in the following categories: 25 points
➼ Best Picture
➼ Best Director
➼ Best Actor
➼ Best Actress
➼ Best Supporting Actor
➼ Best Supporting Actress
➼ Best Original Screenplay
➼ Best Adapted Screenplay
Win in the following categories: 10 points
➼ Young Actor/Actress
➼ Acting Ensemble
➼ Cinematography
➼ Editing
➼ Costume Design
➼ Production Design
➼ Score
➼ Song
➼ Hair/Makeup
➼ Visual Effects
➼ Animated Feature
➼ Comedy Feature
➼ Foreign-Language Film
—
BAFTA Awards Nominations
January 18
Nomination in the following categories: 20 points
➼ Best Picture
➼ Best Director
➼ Best Actor
➼ Best Actress
➼ Best Supporting Actor
➼ Best Supporting Actress
➼ Best Original Screenplay
➼ Best Adapted Screenplay
Nomination in the following categories: 10 points
➼ British Film
➼ British Debut
➼ Animated Film
➼ Documentary Film
➼ Film Not in the English Language
➼ Casting
➼ Cinematography
➼ Editing
➼ Costume Design
➼ Production Design
➼ Original Score
➼ Hair/Makeup
➼ Special Visual Effects
➼ Sound
—
Oscar Nominations
January 23
Nomination in Best Picture: 50 points
Nomination in the following categories: 25 points
➼ Best Director
➼ Best Actor
➼ Best Actress
➼ Best Supporting Actor
➼ Best Supporting Actress
➼ Best Original Screenplay
➼ Best Adapted Screenplay
➼ Best Animated Feature
➼ Best Documentary Feature
➼ Best International Feature
Nomination in the following categories: 15 points
➼ Best Cinematography
➼ Best Costume Design
➼ Best Production Design
➼ Best Hair/Makeup
➼ Best Sound
➼ Best Visual Effects
➼ Best Film Editing
➼ Best Original Song
➼ Best Original Score
—
Writers Guild Awards Nominations
TBA
Nomination in any category: 10 points
—
AARP Movies for Grownups Awards
TBA
Win for Best Movie for Grownups: 20 points
Win in any other category: 10 points
—
Directors Guild Awards
TBA
Win in any category: 30 points
—
BAFTA Awards
February 18
Win in the following categories: 35 points
➼ Best Picture
➼ Best Director
➼ Best Actor
➼ Best Actress
➼ Best Supporting Actor
➼ Best Supporting Actress
➼ Best Original Screenplay
➼ Best Adapted Screenplay
Win in the following categories: 20 points
➼ British Film
➼ British Debut
➼ Animated Film
➼ Documentary Film
➼ Film Not in the English Language
➼ Casting
➼ Cinematography
➼ Editing
➼ Costume Design
➼ Production Design
➼ Original Score
➼ Hair/Makeup
➼ Special Visual Effects
➼ Sound
—
Producers Guild Awards
February 25
Win in any category: 30 points
—
Screen Actors Guild Awards
February 24
Win in Best Ensemble Cast: 50 points
Win in the following categories: 35 points
➼ Best Male Actor
➼ Best Female Actor
➼ Best Supporting Male Actor
➼ Best Supporting Female Actor
Win in any other category: 10 points
—
Film Independent Spirit Awards
February 24
Win in the following categories: 25 points
➼ Best Feature
➼ Best Director
➼ Best Lead Performance
➼ Best Supporting Performance
➼ Best Breakthrough Performance
➼ Best Screenplay
Win in the following categories: 10 points
➼ First Feature
➼ First Screenplay
➼ Documentary Feature
➼ International Feature
➼ Cinematography
➼ Editing
➼ John Cassavetes Award
➼ Robert Altman Award
—
Writers Guild Awards
TBA
Win in any category: 20 points
—
The Oscars
March 10
Win in Best Picture: 100 points
Win in the following categories: 75 points
➼ Best Director
➼ Best Actor
➼ Best Actress
➼ Best Supporting Actor
➼ Best Supporting Actress
➼ Best Original Screenplay
➼ Best Adapted Screenplay
➼ Best Animated Feature
➼ Best Documentary Feature
➼ Best International Feature
Win in the following categories: 50 points
➼ Best Cinematography
➼ Best Costume Design
➼ Best Production Design
➼ Best Hair/Makeup
➼ Best Sound
➼ Best Visual Effects
➼ Best Film Editing
➼ Best Original Song
➼ Best Original Score