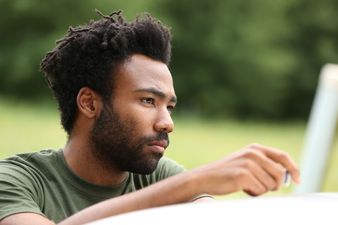 Photo: Quantrell D. Colbert/Copyright 2016, FX Networks. All rights reserved.
Donald Glover is Earn, who after dropping out of Princeton and returning home to Atlanta, Georgia, decides to try to make something of a crummy situation by managing his cousin Alfred (Brian Tyree Henry), who is actually getting pretty popular rapping under the name Paper Boi. In the process, he might improve his relationship with his ex, Van (Zazie Beetz), who is also the mother of his child.
…That sounds like a simple enough premise for a TV show, but Atlanta, one of the most critically acclaimed series in recent memory, is much, much, much more than that description implies. The comedy-drama, which frequently dabbles in surrealism, also stars Lakeith Stanfield. The fourth and final season airs in 2022.
Episode 5

Nobody Beats the Biebs

Episode 4

The Streisand Effect

Episode 2

Streets on Lock
Episode 11

Crabs in a Barrel

Episode 9

North of the Border

Episode 3

Money Bag Shawty
Episode 9

Rich Wigga, Poor Wigga

Episode 7

Trini 2 De Bone

Episode 4

The Big Payback

Episode 3

The Old Man and the Tree

Episode 2

Sinterklaas is Coming to Town
Episode 10

It Was All a Dream

Episode 9

Andrew Wyeth. Alfred's World.

Episode 8

The Goof Who Sat by the Door

Episode 6

Crank Dat Killer

Episode 4

Light Skinned-ed

Episode 2

The Homeliest Little Horse

Episode 1

The Most Atlanta
The Latest on Atlanta