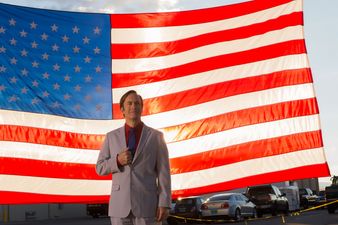 Soon after the final chapter in the saga of Walter White wrapped, Breaking Bad creator Vince Gilligan joined forces with writer-producer Peter Gould to create another comic epic of corruption and crime in the American Southwest, making what some considered a counterintuitive choice of protagonist. Better Call Saul takes a minor character in the story of Walter White, his hilariously amoral lawyer Saul Goodman (Bob Odenkirk), shows his origin as hustler turned law clerk "Slippin'" Jimmy McGill, and observes his mutation into the character we met in Breaking Bad, a man who never met a norm he couldn't flout, a law he couldn't bend, or a promise he couldn't break.
Better Call Saul is anchored by two Breaking Bad regulars: Saul himself and Michael Ehrmantraut (Jonathan Banks), a former cop who becomes a fixer for a powerful Mexican cartel, setting his life on a course that will ultimately intersect with that of Jimmy and his most notorious future client. Other Breaking Bad supporting characters would make appearances over the years, including drug lord/chicken magnate Gustavo Fring (Giancarlo Esposito), but new major characters replaced the familiar ones as objects of viewer prognostication. Chief among them is Kim Wexler (Rhea Seehorn), Jimmy's frequent partner in shenanigans, who is torn between nudging him toward the light and joining him in the darkness. There's a huckster and con artist inside of her, too, and Jimmy liberates the chaos agent nestled within her righteous, squared-away public identity.
Better Call Saul carries the implicit assumption that any character not seen in Breaking Bad will inevitably be killed off, but proved it could sidestep bloodshed when it wanted to. In doing so, the show refined its own version of Alfred Hitchcock's summation of the difference between surprise and suspense: Surprise is when two characters are eating lunch at a café and a bomb unexpectedly goes off, while suspense is when we see a bomb being planted under the table, then observe two people who don't know about the bomb enjoying a nice lunch. In contrast to Breaking Bad, whose lead character has pyromaniac tendencies, Saul's explosions are the moral and ethical ruptures in the characters' journeys.
Saul's direction, cinematography, and editing are similarly deliberate, prizing classical narrative filmmaking values and techniques that are rarely used today. If Breaking Bad was blunt-force entertainment that wore the outward signifiers of Prestige TV as camouflage, Better Call Saul is a European version of an American-crime potboiler, stating right out of the gate its preference for introspection and moral inventory over mayhem and shock, and making sure that the most appalling thing about any of its characters isn't what they do, but the lies they tell themselves about why they did it. —Matt Zoller Seitz
Episode 5

Alpine Shepherd Boy


Episode 7

Something Stupid

Episode 3

Something Beautiful
Episode 10

Something Unforgivable

Episode 9

Bad Choice Road

Episode 6

Wexler v. Goodman

Episode 3

The Guy for This
Episode 8

Point and Shoot

Episode 7

Plan and Execution

Episode 3

Rock and Hard Place

Episode 2

Carrot and Stick
The Best of Better Call Saul on Vulture