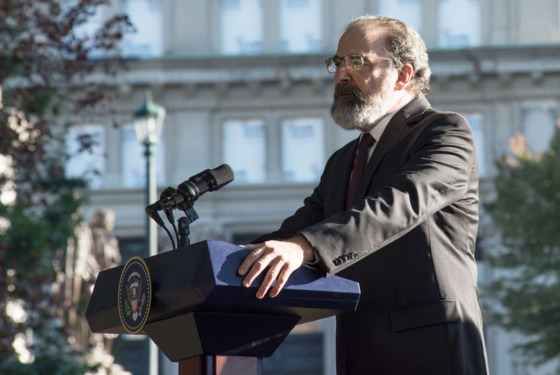 Season 07
Episode 02
Rebel Rebel
Don't mess with Carrie Mathison.
What does Homeland look like without Peter Quinn?
Homeland ends its first season without a bang.
Claire Danes gets her Emmy reel in order.
Or, emotionally bulletproof reasons to become a terrorist.
For some sex. While sober.
Carrie gets down to business.
The blind spots continue to make trouble.
Carrie takes up surveillance when the cameras go off.
Sullen daughter Dana reveals she knows all about her mom's affair with dad's best friend.
Brody starts to pray. Also, takes to throat punching.
Showtime's new drama gets off to a strong start.
Schedule

Sundays, 10 p.m.
Showtime

Cast

Claire Danes:
'Carrie Mathison'
Mandy Patinkin:
'Saul Berenson'
Rupert Friend:
'Peter Quinn'
F. Murray Abraham:
'Dar Adal'
Sarita Choudhury:
'Mira Berenson'
Jackson Pace:
'Chris Brody'
Tracy Letts:
'Senator Andrew Lockhart'
Nazanin Boniadi:
'Fara Sharazir'
Laila Robins:
'Martha Boyd'

Producers

Michael Cuesta, Alex Gansa, Howard Gordon, Avi Nir, Gideon Raff, Ran Telem

Debut

October 2, 2011
MORE +
6/15/17 at 8:37 AM
"I was storming around my house saying 'We're completely irrelevant!'"
9/20/12
"The biggest public mistake I ever made was that I chose to do Criminal Minds."
By Willa Paskin
7/12/12
Carrie's going back undercover!
By Denise Martin
Sunday
Monday
Wednesday
Friday
Saturday
On Hiatus:

The 100, The Affair, The Americans, American Gods, Archer, Arrow, Ash Vs. Evil Dead, Atlanta The Bachelor, Ballers, Billions, Black Mirror, Bloodline, BoJack Horseman, Catastrophe, Crashing, The Crown, Daredevil, Designated Survivor, Difficult People, Divorce, Doctor Who, Fargo, The Fosters, Game of Thrones, The Girlfriend Experience, Glow, The Good Fight, The Handmaid's Tale, House of Cards, Insecure, iZombie, Jessica Jones, Legion, The Magicians, The Man in the High Castle, Marvel's Luke Cage, Master of None, Nashville, New Girl, Preacher, Quantico, The Real Housewives of New York, Silicon Valley, Togetherness, Unbreakable Kimmy Schmidt, UnREAL, Veep, Westworld, Younger, Zoo
The Archives:

24: Live Another Day, 30 Rock, Agent Carter, American Crime, America's Next Top Model, Arrested Development, Big Love, Bored to Death, BrainDead, Breaking Bad, The Bridge, The Catch, The Carmichael Show, Celebrity Apprentice, The Comeback, Community, Cougar Town, Curb Your Enthusiasm, Dexter, Downton Abbey, Eastbound and Down, Enlightened, The Following, Friday Night Lights, The Get Down, The Good Wife, Glee, Gossip Girl, The Grinder, Hannibal, Heroes Reborn, Hell on Wheels, How I Met Your Mother, Jersey Shore, Justified, The Killing, The Knick, The Leftovers, The Legend of Korra, Looking, Louie, Lost, Luck, Maron, Mad Men, Masters of Sex, Minority Report, The Night of, The Office, Parenthood, Parks and Recreation, Pitch, Penny Dreadful, Pretty Little Liars, Project Runway, Ray Donovan, The Real Housewives of New Jersey, Real Husbands of Hollywood, Review, Revenge, Revolution, Roadies, Rubicon, Sense8, The Sing-Off, Sleepy Hollow, Smash, Sons of Anarchy, The Strain, Terra Nova, Top Chef, Top Chef Masters, True Blood, Under the Dome, Up All Night, The vampire Diaries, Vinyl, The Voice, Work of Art, The X Factor