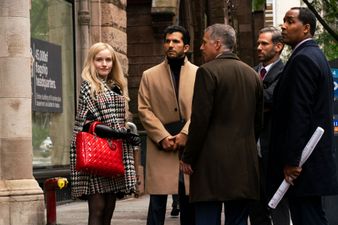 Photo: NICOLE RIVELLI/NETFLIX
Inspired by Jessica Pressler's 2018 New York article about a woman who pretended to be a German heiress and scammed many wealthy New Yorkers in the process, Netflix's Inventing Anna bills itself as a story that's "completely true, except for all the parts that are totally made up." That title-card disclaimer works on two levels, acknowledging both the elite scam-work done by Anna Sorokin, a.k.a. Delvey (Julia Garner), and the fictionalized approach this Shonda Rhimes-created series takes to tracking Delvey's story via the reporting of that article, written here by a Pressler analogue named Vivian Kent (Anna Chlumsky) for Manhattan magazine.
The refrain of "Who is Anna Delvey?" echoes through all nine episodes of this limited series as it chases after an idea of "the truth" that becomes more malleable and subjective with every confusingly accented utterance that falls out of the mouth of its title character.
Episode 9

Dangerously Close

Episode 8

Too Rich for Her Blood

Episode 7

Cash on Delivery

Episode 6

Friends in Low Places

Episode 4

A Wolf in Chic Clothing

Episode 3

Two Birds, One Throne

Episode 2

The Devil Wore Anna