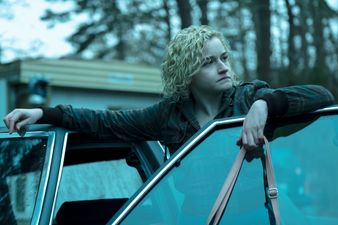 Photo: Jessica Miglio/Netflix/Jessica Miglio/Netflix
Marty and Wendy Byrde and their two kids seem like a normal, upper-middle class family. But, it turns out they're actually not so normal, and when Marty's involvement in laundering money for a Mexican drug cartel goes south, the whole family relocates to Missouri's Lake of the Ozarks where they get more and more involved in a life of crime.
Ozark stars Jason Bateman, Laura Linney, and Julia Garner. Over the course of the Netflix's series four seasons, the crime drama was nominated for dozens of Emmys and received popular and critical acclaim.
Episode 4

Tonight We Improvise

Episode 3

My Dripping Sleep
Episode 10

The Gold Coast

Episode 3

Once a Langmore…

Episode 2

The Precious Blood of Jesus
Episode 7

In Case of Emergency

Episode 6

Su Casa Es Mi Casa

Episode 5

It Came From Michoacán

Episode 3

Kevin Cronin Was Here
Episode 14

A Hard Way to Go

Episode 12

Trouble The Water

Episode 11

Pound of Flesh and Still Kickin'

Episode 10

You're the Boss

Episode 9

Pick a God and Pray

Episode 8

The Cousin of Death

Episode 6

Sangre Sobre Todo

Episode 3

City on the Make

Episode 2

Let the Great World Spin

Episode 1

The Beginning of the End
More on Ozark

Load More