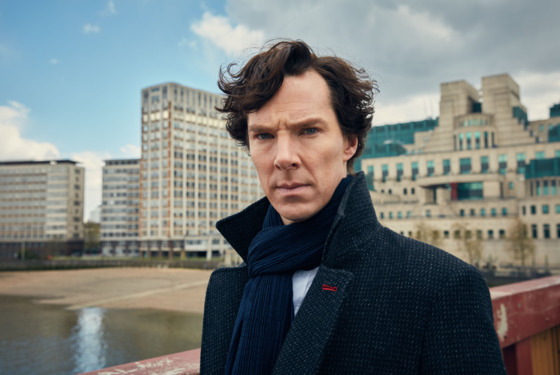 Season 04
Episode 03
The Final Problem
"The Final Problem" barely resembles Sherlock as we know it.
"The Lying Detective" brings fun back to Baker Street.
"The Six Thatchers" isn't much of a mystery, but it's certainly shocking.
Welcome to Victorian England! Here's your fancy hat and uncomfortable corset.
Before embarking on yet another interminable vacation, Sherlock packs in a rewarding mystery and says hello to a familiar face.
Sherlock's speech is a corker.
A bumpy reentry, but by episode's end, things are back to normal for Holmes and Watson.
Schedule

Sundays, 10 p.m.
PBS

Cast

Benedict Cumberbatch:
'Sherlock Holmes'
Martin Freeman:
'Dr. John Watson'
Una Stubbs:
'Mrs. Hudson'
Rupert Graves:
'DI Lestrade'
Louise Brealey:
'Molly Hooper'
Mark Gatiss:
'Mycroft Holmes'

Creators

Mark Gatiss, Steven Moffat

Producers

Sue Vertue, Mark Gatiss, Steven Moffat

Debut

October 24, 2010
MORE +
3/16/18 at 9:26 PM
"It's not a thing to be enjoyed, it's a thing of: 'You better f—ing do this, otherwise, you're a c—.' That's not fun anymore."
Sunday
Monday
Wednesday
Friday
Saturday
On Hiatus:

The 100, The Affair, The Americans, American Gods, Archer, Arrow, Ash Vs. Evil Dead, Atlanta The Bachelor, Ballers, Billions, Black Mirror, Bloodline, BoJack Horseman, Catastrophe, Crashing, The Crown, Daredevil, Designated Survivor, Difficult People, Divorce, Doctor Who, Fargo, The Fosters, Game of Thrones, The Girlfriend Experience, Glow, The Good Fight, The Handmaid's Tale, House of Cards, Insecure, iZombie, Jessica Jones, Legion, The Magicians, The Man in the High Castle, Marvel's Luke Cage, Master of None, Nashville, New Girl, Preacher, Quantico, The Real Housewives of New York, Silicon Valley, Togetherness, Unbreakable Kimmy Schmidt, UnREAL, Veep, Westworld, Younger, Zoo
The Archives:

24: Live Another Day, 30 Rock, Agent Carter, American Crime, America's Next Top Model, Arrested Development, Big Love, Bored to Death, BrainDead, Breaking Bad, The Bridge, The Catch, The Carmichael Show, Celebrity Apprentice, The Comeback, Community, Cougar Town, Curb Your Enthusiasm, Dexter, Downton Abbey, Eastbound and Down, Enlightened, The Following, Friday Night Lights, The Get Down, The Good Wife, Glee, Gossip Girl, The Grinder, Hannibal, Heroes Reborn, Hell on Wheels, How I Met Your Mother, Jersey Shore, Justified, The Killing, The Knick, The Leftovers, The Legend of Korra, Looking, Louie, Lost, Luck, Maron, Mad Men, Masters of Sex, Minority Report, The Night of, The Office, Parenthood, Parks and Recreation, Pitch, Penny Dreadful, Pretty Little Liars, Project Runway, Ray Donovan, The Real Housewives of New Jersey, Real Husbands of Hollywood, Review, Revenge, Revolution, Roadies, Rubicon, Sense8, The Sing-Off, Sleepy Hollow, Smash, Sons of Anarchy, The Strain, Terra Nova, Top Chef, Top Chef Masters, True Blood, Under the Dome, Up All Night, The vampire Diaries, Vinyl, The Voice, Work of Art, The X Factor