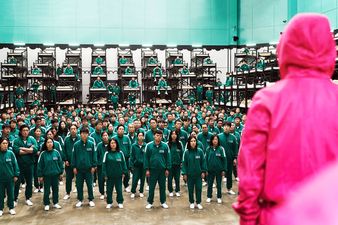 Photo: Youngkyu Park/Netflix
Seong Gi-hun is down on his luck — as are at least 455 other people in South Korea who accept an offer to escape financial hardship by playing a series of children's games. The catch? Only one person can win the ₩45.6 billion (and growing) grand prize, and anybody who loses dies.
Squid Game, a thrilling and dark indictment of capitalism and class disparity from South Korean creator Hwang Dong-hyuk, became Netflix's most-watched series shortly after its September 2021 premiere, and it is the first non-English language series to be nominated for Best Drama at the Emmys. Lee Jung-jae, Park Hae-soo, Wi Ha-joon, HoYeon Jung, O Yeong-su, Heo Sung-tae, Anupam Tripathi, and Kim Joo-ryoung star.
Episode 5

Stick to the Team

Episode 4

Stick to the Team

Episode 3

The Man with the Umbrella

Episode 1

Red Light, Green Light