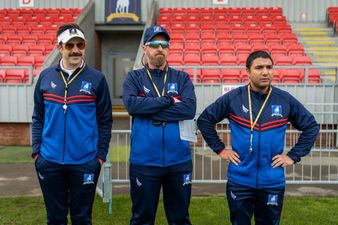 Ted Lasso is an American college football coach. So, naturally he'd be great at coaching an English football team, right? Not exactly, but gosh darn it if Ted's optimism and folksy charm aren't just what AFC Richmond needs, even if the team's owner did only hire him in an attempt to get revenge on the previous owner, her ex.
Jason Sudeikis stars as Ted, a character he actually first played in a series of commercials for NBC Sports' coverage of the Premier League. The Apple TV+ show greatly expands on those humble beginnings, however, and Ted Lasso has gone on to be one of the streaming service's biggest hits.
Episode 12

Inverting the Pyramid of Success

Episode 11

Midnight Train to Royston

Episode 10

No Weddings and a Funeral

Episode 9

Beard After Hours

Episode 4

Carol of the Bells

Episode 3

Do the Right-est Thing
Episode 12

So Long, Farewell

Episode 10

International Break

Episode 9

La Locker Room aux Folles

Episode 8

We'll Never Have Paris

Episode 7

The Strings That Bind Us

Episode 2

I Don't Want to Go to Chelsea

Episode 1

Smells Like Mean Spirit
More on Ted Lasso
will the greyhounds ride again?
Load More