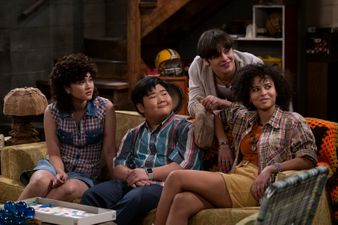 Photo: Patrick Wymore/Netflix
Two things are inexorable: the march of time and also TV reboots. So, in a way, That '90s Show is the perfect series, as it's a legacy sequel to the beloved sitcom That '70s Show and a potentially grim reminder of how old you're getting. When That '70s Show was on the air, the 1970s were as far away as the 1990s are from today. Really makes you think about your youth. Where did the time go? Are you living the life you wanted for yourself back then?
…Anwyay, Debra Jo Rupp and Kurtwood Smith reprise their roles as Kitty and Red Forman in the new Netflix series. Callie Haverda plays their granddaughter Leia, and this time around she and her new friends will be hanging out in the basement and getting high. Most (but not all) of the gang from the original series, including Topher Grace, Mila Kunis, Ashton Kutcher, Laura Prepon, and Wilmer Valderrama, make guest appearances.
Episode 10

Kids in America

Episode 9

Dirty Double Booker

Episode 7

Boyfriend Day One

Episode 6

The Birthday Girl

Episode 1

That '90s Pilot
The Latest on That '90s Show