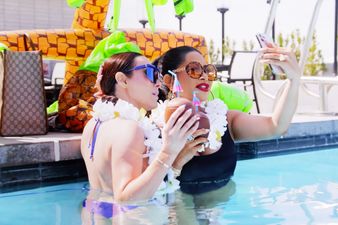 The tenth series in Bravo's The Real Housewives series takes viewers to Utah for a look at the drama-filled lives of a group of women living in Salt Lake City. Lisa Barlow, Heather Gay, Meredith Marks, Whitney Rose, and Jen Shah — who might not be coming back following some, ah, legal troubles — balance their personal and professional lives while making sure there's space for blow-ups and grudges, as any good Housewife does.
Episode 13

Chilly Reception

Episode 12

Sinners in the City

Episode 11

All Bets Are Off

Episode 9

Hip Hop and Heartbreak

Episode 8

Hot Tub Confessions

Episode 7

Fashion Faux Pas

Episode 5

Ladies Who Lunch

Episode 4

Roaring Emotions

Episode 3

Everybody Needs a Switzerland

Episode 2

A Snow Mountain of Trouble

Episode 1

Welcome to Salt Lake City!
Episode 21

Why Can't We Be Friends

Episode 20

Memorial Meltdown

Episode 19

Cinco De Mayhem

Episode 18

Sorry's and Sleepovers

Episode 17

Who's Calling Who a Fraud?

Episode 16

Holy Mother of Zion

Episode 15

The Miseducation of Mary Cosby

Episode 13

Fair Weather Friends

Episode 12

A House Divided

Episode 11

Old Testaments, New Revelations

Episode 10

Highway to Vail

Episode 9

I Was Driving Carpool!

Episode 8

A Wolf Pack of Secrets

Episode 6

Sex, Lies and Sister Wives

Episode 5

Gin and Bear It

Episode 4

Friendship Roulette

Episode 3

Fishing for the Truth

Episode 1

Best of Frenemies
Episode 14

Trials and Tribulations

Episode 13

Unfashionable Behavior

Episode 12

White Lies and Black Eyes

Episode 11

High Stakes and Friendship Breaks

Episode 10

High Heels in the High Seas

Episode 9

Not a Yacht of Fun

Episode 4

Bad Weather Betrayal

Episode 3

Courtside Conundrum

Episode 2

Searching for Sereni-Tea

Episode 1

Revenge Marks the Spot
Episode 3

All Tricks, No Trust

Episode 2

Vacation Crashers

Episode 1

Fresh Powder, Fresh Start
More on The Real Housewives of Salt Lake City
meredith might know something

housewives institute bulletin

housewives institute bulletin
Load More