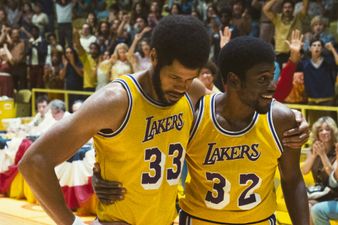 Winning Time: The Rise of the Lakers Dynasty, the HBO series about the late-'70s-to-early-'80s transformation of the Los Angeles Lakers, is about as subtle as leaping over two big men to deliver a decisive slam dunk in an NBA playoff game. It's showy and a little arrogant, brash and aggressive, urgent and quickly paced when the moment calls for it. It can be a little much until you get used to it, and even then, it's still a little much. But once you get hooked into the story of how a struggling team reinvented itself and the NBA experience, you may find it hard to look away, even though its pleasures run more surface level than deep. — Jen Chaney, "Winning Time Certainly Puts on a Show"
Episode 8

California Dreaming

Episode 5

Pieces of a Man

Episode 4

Who the Fuck is Jack McKinney?

Episode 3

The Best Is Yet To Come

Episode 2

Is That All There Is?
Episode 7

What Is and What Should Never Be

Episode 5

The Hamburger Hamlet

Episode 3

The Second Coming

Episode 2

The Magic is Back

Episode 1

One Ring Don't Make a Dynasty
More on Winning Time: The Rise of the Lakers Dynesty