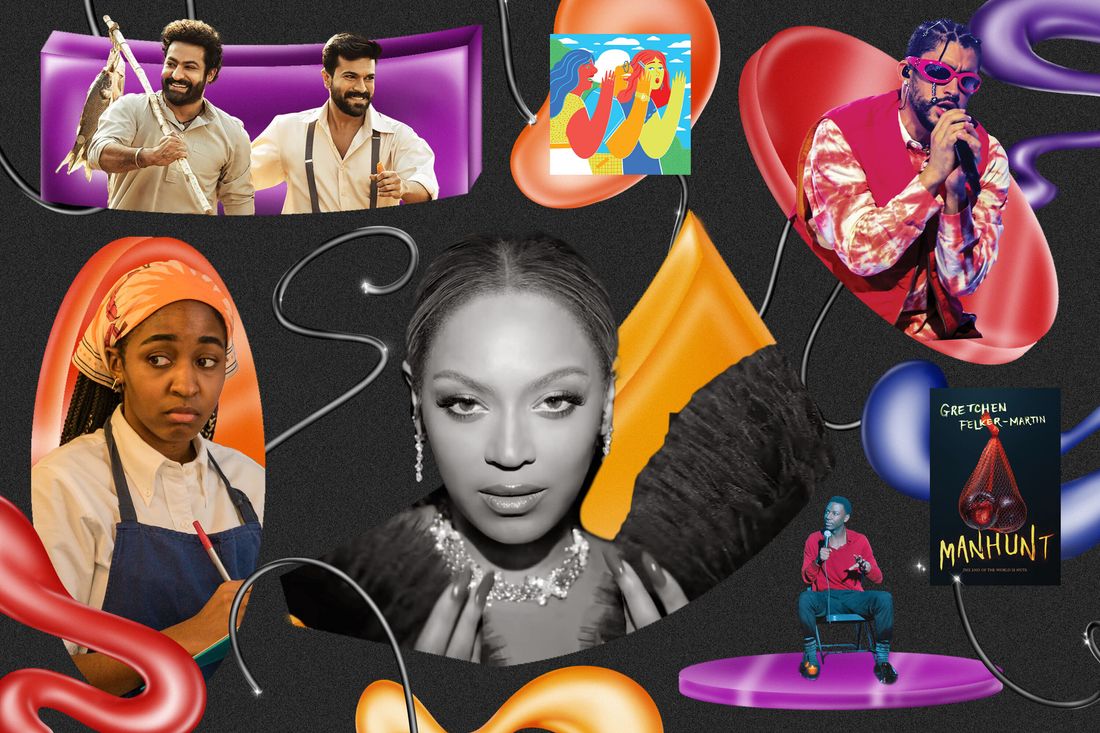 Photo-Illustration: Rowena Lloyd and Susanna Hayward; Photos: DVV Entertainment, Defector Media LLC, Shareif Ziyadat/WireImage, Matt Dinerstein/FX, Beyoncé/YouTube, HBO and Tor Nightfire
After over two years of filming delays, production holds, budget cuts, and other pandemic-related setbacks, the floodgates opened in 2022 and unleashed on us an avalanche of entertainment. As is tradition, Vulture spent the month of December reflecting on the year's offerings and selecting the most outstanding examples of entertainment and storytelling. Over two dozen lists and discussions follow, highlighting what rose to the top and why. And if you're seeking the hottest influencers of 2022? Our nepo baby coverage is over here.
Skip to: Art | Books | Movies | Music | Online | Podcasts | Theater | TV | Video Games
Our critics break down what goes into naming the best of the year. In this conversation, Jen Chaney, Roxana Hadadi, and Kathryn VanArendonk talk about how we made this list, what this year in TV was like, and what we're furious we had to leave off: "If a show didn't make me completely obsessed with it in a way that at least slightly short-circuited my ability to be a reasonable person, it's probably not going to make the top of the list."
There are many ways for an actor to leave their mark on a TV show: as a crucial component of a top-notch ensemble, as a contradictory hero or charismatic villain, as a scene-stealing side character or versatile protagonist. But these 14 performers, individually and collectively, embody what made this year's television interesting and special.
In 2022, some of the best shows stood out by aiming for a sentimental sweet spot. On Vulture's podcast Into It, host Sam Sanders chats with critics Kathryn VanArendonk and Roxana Hadadi about three of their favorite shows of the year.
Featuring the bombastic action of Chainsaw Man, the romantic comedy of Kaguya-sama, and the healing drama of Do It Yourself!, these are the best anime shows of the year, ranging from the thrilling to the heartwarming to the downright weird.
Female friendships have been a television mainstay for nearly as long as there has been television. This year, the final seasons of Kevin Can F**k Himself and Dead to Me followed the established formula but with one key shared difference: In both series, men's deaths were a requirement for women's self-actualization.
The TV landscape, for all its excess, has been decimated by corporate greed this year; beloved scripted series, animated favorites, and cult reality competitions are all amongst the wreckage. Vulture staffers pour one out for the shows we lost this year.
If you're not crying while watching TV, are you even watching TV at all? This one's for all the people who have wiped away tears after seeing their favorite TV characters get their happy endings, for those who have silently wept when a fictional person dies, for those who have sobbed so loudly they had to pause during a pivotal moment.
Megan Thee Stallion, Kate Bush, and … Charles Manson? TV soundtracks had it all this year. We're running down the best uses of preexisting pop music on the small screen during the year that was. Rock out.
When's the last time you really sat and considered a televised body of water? Oceans, ponds, rivers, even man-made water features: These are indispensable elements of screen storytelling. They can be moody or sparkling, dangerous or peaceful. They deserve their own moment to shine. To ripple. To reflect.
It was a big year for our TV recaps. Week after week, binge-drop after binge-drop, our recaps were a destination for fans eager to process their feelings about an episode and/or volley opinions in the comments. Here you'll find the 20 series that earned the most cumulative traffic to their recaps, along with the most-read individual recap from each show.
From Beyoncé's ecstatic roller coaster through dance history, to a masterfully written country ballad, to the return of the Yeah Yeah Yeahs, and more. The best songs of the year couldn't give us all the answers we hoped for, but at the very least, they provided a fleeting and desperately needed moment of salvation.
Too many musicians spent 2022 gleefully abandoning their better judgment, heeding impulses to subvert audience expectations and court controversy. The way everyone acted this year … let's try not to do it again.
Some of the most provoking, mind-bending, and downright fun albums of the year reflected their artists' lack of faith in the gender binary by transgressing other binaries: language, genre, the divide between the singular and the multiple. They reflected anger, malaise, or withdrawal from typical ideas of gender.
"The year 2022 has not been great for movies. This claim is subject to many asterisks, of course — it's harder than ever for a movie to break through the wall of noise made by everything that's streaming and releasing on multiple platforms at any given time, and the global film industry is still as susceptible as any other to the traumas of the pandemic. After emerging from two-plus years spent isolating and distancing and outdoor dining and being utterly unsure of how to most responsibly resume moving through the world, our critics are left wondering, Do we want too much from this medium that we love? "
The individual performances from this year's movies that electrified Vulture critic Angelica Jade Bastién. From the deliciously jittery Jake Gyllenhaal to a perfectly arch Rebecca Hall to Taylor Russell as a cannibal, and so much more.
This year was a particularly strong one for animated features released in the United States. Rotoscoping roared back into the public eye with the help of Richard Linklater. Visionary director Masaaki Yuasa dropped one of the best anime films of his career. And not one but three stop-motion films made our top-ten list.
With more than 77 billion views globally to date, TikTok's collection of literary-minded creators and clips has the power to turn niche writers into global sensations, to start (and shut down) companies, and to connect striking publishing workers to a digital community rallying around them. Here's a look back on the biggest, baddest, and oddest BookTok controversies of the year.
This year, we continued to expand our idea of what a memoir can be. From Angela Garbes's genre-bending look at the role and work of motherhood to Jeremiah Moss's reflections on a changing New York neighborhood through gentrification and then a pandemic, these books found ways to blend personal history with a careful analysis of the cultural forces and institutions that inform it.
From comedy legend Bob Odenkirk's memoir, Comedy Comedy Comedy Drama, to a beloved novel's new sequel, to a joke book that doesn't miss with its pointed satire, and more. This year's books all seemed to take on a particular tenor, ready for a comedy evolution still in progress.
Today's fantasy fiction refuses to be constrained by the dominant cultural stereotype. From dark academia to mythological retellings to epic journeys, set in alternate versions of our reality and in worlds completely foreign to us, the best fantasy of the year comes in all shapes and sizes.
To be a horror fan this year is to find yourself at a feast after many years of famine. There's something for everyone, whether you're looking for a gently creepy gothic tale or the most transgressive splatterpunk imaginable. This year's best titles include Just Like Home, by Sarah Gailey, Jackal, by Erin E. Adams, and Manhunt, by Gretchen Felker-Martin.
We polled over 220 people in the podcast community — producers, hosts, independent creators, executives, agents, sound designers, production coordinators, lawyers, and so on — on what they felt were the three best podcasts of the year. We tallied up the counts, and in this list, we present the 15 shows with the most votes.
Featuring Will Be Wild's deep dive into the January 6 insurrection, the surprising turns of Chameleon: Wild Boys, and a near-perfect wrongful-conviction procedural. The true-crime genre remains as abundant as ever, and 2022 produced plenty of strong projects — and a clear knockout.
This year, comedy podcasts made things a little easier. All over the internet, podcasters spent the year telling jokes, playing improv games, and just generally goofing right the heck off. They uplifted us with hot, juicy goss; granted us behind-the-scenes access to our favorite franchises; and queered everything from Jackass to ringworm with perfect joie de vivre.
Podcasts were everywhere this year — including fictional ones, which could be found everywhere from TV shows like Only Murders in the Building and And Just Like That … to movies like Bros and Bodies Bodies Bodies. We rank the best and worst ones.